Unhappiness growing on judicial meddling: poll
A poll by the Taiwan Indicator Survey Research released on Friday found that President Ma Ying-jeou (馬英九) administration is not only losing popularity with the public, but its policies and conduct in judicial matters are coming under doubt.
A majority of the poll respondents felt that the Ma government had gone back on its 2008 promise to halt illegal wiretapping and other illegal actions.
The research group conducted the poll on Tuesday and Wednesday and asked two questions, but varied the answer style between random answers, itemized listing and multiple-choice.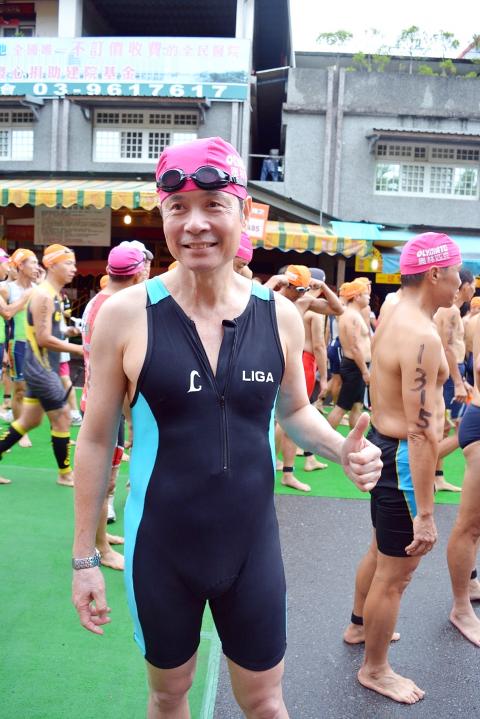 National Security Council Secretary-General King Pu-tsung yesterday gives a thumbs-up sign as he takes part in a triathlon in Yilan County.
Photo: Chu Tze-wei, Taipei Times
The questions were: "Has the government been choosing which judiciary cases to investigate" and "Has the government intervened illegally in judiciary affairs."
The poll found that 72.4 percent of respondents said the government has abused its power, 67 percent said the government was selective in deciding which cases to investigate, 66.8 percent said the government was interfering with prosecutors' investigations and 66.2 percent said the government was interfering with judicial cases.
The poll also found that 66.1 percent of respondents felt that political factors were preventing media from reporting on cases, 62.5 percent feel the government is conducting illegal wiretaps and 53.8 percent believe there is political interference with election organizations, while 13.6 percent declined to comment.
When asked whether they thought political interference with the judiciary had reached a severe stage, 59 .6 percent of respondents said there was severe political intervention with the judiciary and prosecutors' investigations, 14.4 percent felt there was not severe intervention and 26 percent did not respond.
Cross-analysis of the data showed that even 49.7 percent of Chinese Nationalist Party (KMT) supporters felt their selective prosecutions had reached a severe level.
The poll also found that 72.4 percent of respondents were dissatisfied with the president's performance, while 15.6 percent were satisfied.
The results show 19.9 percent of respondents trust the government, while 62.5 percent do not.
The poll also found that 51 percent of respondents do not trust National Security Council Secretary-General King Pu-tsung (金溥聰) and 15.1 percent said they did trust him, while 34 percent decline to comment.
The survey polled individuals aged 20 years or over and collected 1,009 valid samples. The margin of error is 3.1 percentage points.
Comments will be moderated. Keep comments relevant to the article. Remarks containing abusive and obscene language, personal attacks of any kind or promotion will be removed and the user banned. Final decision will be at the discretion of the Taipei Times.