US-born player no longer eligible for Asian Games
JUMPING THROUGH HOOPS: South Korea has been accused of manipulating rules to the home team's advantage in its decision to disqualify Quincy Davis
The Incheon Asian Games organizing committee's decision to disqualify Taiwanese basketball player Quincy Davis from competing in the Games in South Korea later this month drew mixed reactions from the public yesterday, with some netizens saying it is another gimmick by the Northeast Asian country to help it secure gold in basketball.
Davis renounced his US citizenship and became a naturalized citizen of Taiwan last year.
A professional player in Taiwan's Super Basketball League, Davis has since been drafted by Taiwan's national team to compete in international competitions, including the FIBA Asia Championship last year and the William Jones last year and this year.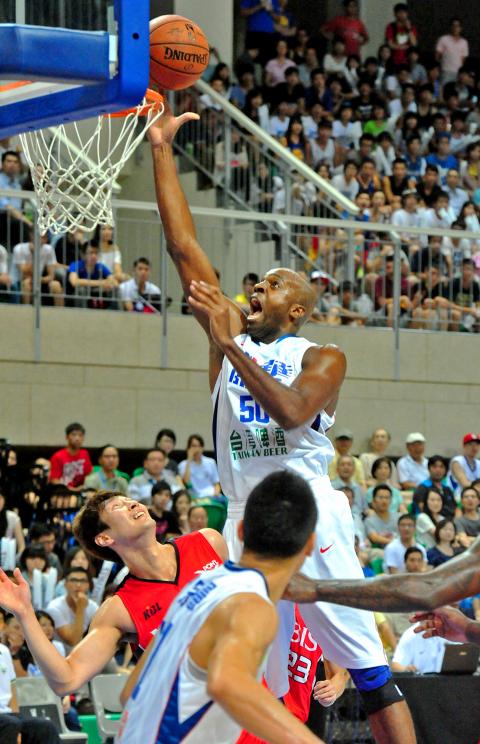 Taiwanese basketballer Quincy Davis takes a shot in a William Jones Cup game in Tianmu, Taipei, on Aug. 15.
Photo: Chien Jung-fong, Taipei Times
The committee said Davis is not eligible to play because he has yet to live in Taiwan for three years, the minimum time required for any non-Asian born athletes to live in their new country to qualify them to compete for that country.
Davis was two months short of the requirement.
The Chinese Taipei Basketball Association said it had received positive confirmation on May 19 regarding Davis' eligibility to compete from the Olympic Council of Asia.
Though the council affirmed Davis' eligibility status through another letter which arrived on Monday this week, the Asian Games Organizing Committee insisted the association prove that Davis has lived in Taiwan for three years or he would not be eligible to play.
While the three-year requirement applies to all Asian countries with naturalized athletes, many netizens said that they are not surprised by the organizing committee's decision as they said this was not the first time South Korea had pulled such tactics to score medals.
"It's not surprising that this country ... would do something like this," a netizen surnamed Ho (何) said. "We should actually be careful if it tries to be nice to us one day. Who knows what kind of cheap theatrics they are trying on?"
However, a netizen surnamed Liu (劉) said that the three-year requirement was not designed to target Davis.
"What South Korea did was to enforce the regulations that were there already. People should really look them up," Liu said."Nine players in the Macao soccer team were disqualified for the same reason. In the past, countries simply negotiated their ways out."
Others said that the association should be prepared for such an outcome and it would be more invigorating if Taiwan could deliver a good performance without Davis.
Danny Wang (王承文), former managing editor of Hoop Taiwan, said that South Korea simply made full use of its "home-team advantage" as the host nation of the Games.
He added that South Korea has also chosen to make the decision at a time most advantageous to them, as it would certainly disrupt competition strategies that national teams would have laid out by now based on their strengths and weaknesses.
He said that the decision not only affected Davis but also Philippine player Andray Blatche, a former NBA player, whom South Korea has deemed a major road block for securing gold.
"Taiwan's basketball team was hoping that Davis could help beef up its player lineup as some of the players are getting older now," Wang said. "Now the team will just have to adapt themselves to the situation in which foreign-born players are not available," Wang said.
The basketball association in Taiwan said it would file a complaint to the council. It also decided yesterday to replace Davis with Taiwanese player Chou Po-chen (周伯臣).
Comments will be moderated. Keep comments relevant to the article. Remarks containing abusive and obscene language, personal attacks of any kind or promotion will be removed and the user banned. Final decision will be at the discretion of the Taipei Times.