Italian eatery under fire over Nazi-themed dish
The Israeli and German representative offices in Taiwan have expressed shock and regret at an Italian restaurant in New Taipei City's Banciao District (板橋) serving a dish named "Long Live Nazi spaghetti (納粹萬歲麵)," saying it showed how some Taiwanese lack understanding about history and the Nazi slaughter of Jews and other minorities.
The restaurant owner, Tsao Ya-hsin, was quoted by cable news channel TVBS on Sunday as saying that she named the dish to get customers' attention, but that she did not wish to specifically place emphasis on the word "Nazi."
Tsao added that she named the dish so because it contains German sausages.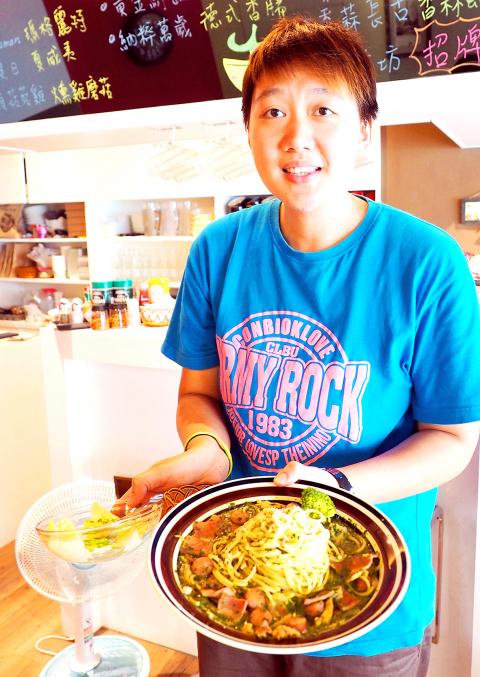 Tsao Ya-hsin yesterday serves Long Live Nazi spaghetti at her restaurant in Banciao, New Taipei City.
Photo: David Chang
Asked about their first impressions on hearing the word "Nazi," members of the public told TVBS said they associate it with the Holocaust, the genocide of approximately 11 million people, including 6 million Jews, by the German military under the command of Adolf Hitler and his collaborators.
This was not the first time a local eatery escaped the bounds of taste. In 2000, a theme restaurant in Taipei caused controversy by displaying several photographs of Nazi concentration camps on the walls. The restaurant owner later pleaded ignorance and removed the images.
In October 2011, President Chain Store Corp, which runs the 7-Eleven convenience stores, removed products featuring an Adolf Hitler-style cartoon figure following complaints.
Mark Lee, a Taiwanese blogger who gained fame with the online comic strips that ridicule corporate bosses using tongue-in-cheek humor, said at the time that the caricature was indeed inspired by Hitler, but added that it was by no means meant to endorse or promote Hitler's views or Nazi ideology.
Comments will be moderated. Keep comments relevant to the article. Remarks containing abusive and obscene language, personal attacks of any kind or promotion will be removed and the user banned. Final decision will be at the discretion of the Taipei Times.