Indigenous troupes travel across globe to join festival
The Global Indigenous Peoples' Performing Arts Festival that is scheduled to start on Friday is to be joined by international indigenous troupes from seven countries and territories — Canada, Tahiti, New Zealand, Guam, Burundi, Chile and Hungary — the Council of Indigenous Peoples announced yesterday.
Manahau, a traditional Tahitian dance group, performed at a press conference at the Executive Yuan in Taipei yesterday to unveil the eight-day event that is to be held in Taoyuan County, Greater Taichung, Taitung County and Hualien County.
The festival, which was first held in 2011, aims to enhance international visibility of indigenous people, advocate the nation's indigenous culture of music and dance, and promote exchanges between Taiwanese indigenous peoples and international indigenous peoples, the council said in a press statement.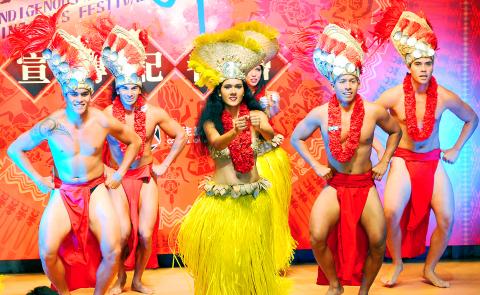 Tahitian dancers perform at a preview in Taipei yesterday of the Global Indigenous Peoples' Performing Arts Festival, which is to take place in Taoyuan, Greater Taichung, Taitung and Hualien from Friday.
Photo: Wang Min-wei, Taipei Times
"There will be trips arranged to tribal areas during the festival as a great opportunity for Taiwanese and overseas indigenous peoples to get first-hand experience of other groups' traditional music and dance," the council said.
In addition, the council is to hold a Guinness World Record attempt on the first day of the festival at the Taoyuan County Arts Facilities Management Center to create the "largest Malikuda dance" — a traditional Amis tribal dance.
In Taiwan, Indigenous Peoples Day is observed on Aug. 1 of each year because it was on Aug. 1, 1994, that the Constitution was amended to change a derogatory name for Aborigines, "mountain compatriots," to "indigenous people."
The festival was scheduled to begin on Friday to commemorate those who had dedicated their lives to fight for Aboriginal rights, Council of Indigenous Peoples minister Lin Chiang-yi (林江義) said.
Comments will be moderated. Keep comments relevant to the article. Remarks containing abusive and obscene language, personal attacks of any kind or promotion will be removed and the user banned. Final decision will be at the discretion of the Taipei Times.