Hsieh Li-kung says likely to stand for KMT in Keelung
Former National Immigration Agency director-general Hsieh Li-kung (謝立功) is likely to represent the Chinese Nationalist Party (KMT) in the Nov. 29 Keelung mayoral election after the party pulled its backing from its original nominee earlier this month.
Hsieh, a senior adviser to the National Security Council, yesterday said that the KMT has discussed the idea with him, but there are "still some procedures to go through."
He said that "it would be a tough battle," but added: "If the party wants me to represent it, I'll do my best."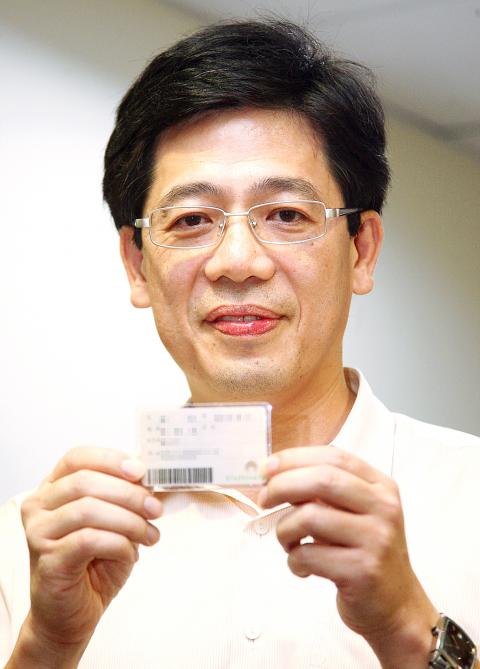 Prospective Chinese Nationalist Party (KMT) Keelung mayoral candidate Hsieh Li-kung holds his identification card yesterday to show he has transferred his household registration to Keelung.
Photo: CNA
The first thing he needs to do, he said, is "to listen more to the voices of people in Keelung and learn about their needs."
The KMT is expected to approve Hsieh's nomination at a meeting of its Central Standing Committee next week.
Keelung City Council Speaker Huang Ching-tai (黃景泰) won the party's primary to represent the KMT in the election, but the party revoked his nomination on July 9 after he came under investigation in connection with influence peddling in a real-estate development project.
Because the KMT's top choice to fill the vacancy — Legislator Hsieh Kuo-liang (謝國樑) — has adamantly refused to run, the party was forced to consider other potential aspirants, including Hsieh and KMT Organizational Development Committee director Su Jun-pin (蘇俊賓).
Hsieh Li-kung prevailed because of his clean image and longstanding ties to the port city, and because Su is busy with preparations for local elections taking place around the country, including in Keelung, on Nov. 29, party sources said.
Although Hsieh Li-kung was not born in Keelung, he has spent nearly 20 years there, including when he studied for his bachelor's and master's degrees at National Taiwan Ocean University in the city and when he worked at the local branch of the Investigation Bureau.
Lin Pei-hsiang (林沛祥), the son of former Keelung mayor Lin Shui-mu (林水木), who took part in the KMT's primary, said that although Hsieh Li-kung is not well-known in Keelung, he "has a good image," and he pledged his full support for Hsieh Li-kung's candidacy.
Huang, who has insisted on remaining a candidate despite losing his party's nomination, said that he would not comment "before the KMT officially nominates a candidate."
Democratic Progressive Party Keelung mayoral candidate Lin Yu-chang (林右昌) said that he had no comment on Hsieh's emergence as the likely candidate, calling it an internal matter of the KMT.
Lin said he would continue his campaign in a "cautiously optimistic manner."
Comments will be moderated. Keep comments relevant to the article. Remarks containing abusive and obscene language, personal attacks of any kind or promotion will be removed and the user banned. Final decision will be at the discretion of the Taipei Times.