Activists warn of dolphin demise
'UNNECESSARY' PROJECT: A proposed expansion of Hong Kong airport would force about 30 Indo-Pacific humpback dolphins to relocate to the Pearl River, activists said
Environmental protection groups yesterday called on the public to support a signature drive against a Hong Kong airport expansion project, which the groups said could endanger the habitat and jeopardize the chances of survival of the endangered Indo-Pacific humpback dolphin (Sousa chinensis).
The proposed expansion project is to establish a third runway through land reclamation, which is to cover 650 hectares and force a pod of 30 humpback dolphins to leave their current habitat in the waters between Hong Kong's Lantau Peak and Chep Lap Kok.
Green Party Taiwan member Chang Yu-ching (張育憬) told a press conference in Taipei yesterday that Hong Kong government agencies and non-governmental organizations in 2002 funded a Taiwan Cetacean Society project to analyze the size and makeup of the nation's humpback dolphin population.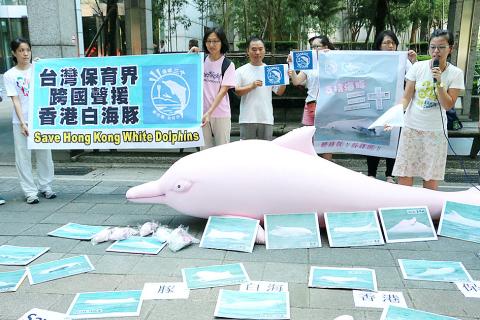 Members of various environmental protection groups hold up signs outside the Hong Kong Economic, Trade and Cultural Office in Taipei yesterday to raise awareness about a Hong Kong airport expansion project that could endanger the Indo-Pacific humpback dolphin.
Photo: CNA
"Now is the time to return the favor, as animal protection has no boundaries," Chang said.
Project executive Hsu Hui-ting (許惠婷) of the Taiwan Environmental Info Association said species protection should come before development and urged Hong Kong authorities to carry out a comprehensive appraisal before they permit any construction.
She also read a statement on behalf of Hong Kong Airport Development Monitoring Network speaker Wu Kun-tai, who criticized the expansion project as "unnecessary," as both passenger and cargo volumes have yet to reach the airport's maximum capacity.
Once the project starts, the dolphins would be forced to relocate to the turbid waters of the Pearl River and may never return to their original habitat, the statement said, adding that the project would threaten their chances of survival over the estimated seven-year construction period.
"It would be too late if the humpback dolphins die out or become too few in number. No matter how vast a conservation zone is set up afterwards, it would not bring them back," Hsu said.
She said that today marks the last day of an official public opinion poll by the Hong Kong Environmental Protection Department, so concerned individuals should act swiftly and submit their petitions to 3rwdolphin.weebly.com. The petition is to be collated and handed to the Hong Kong Environmental Protection Department.
The number of humpback dolphins in the seas surrounding Hong Kong has diminished from more than 100 to about 60 over the past decade, while roughly 70 humpback dolphins live off Taiwan's west coast, between Miaoli County and Greater Tainan, Hsu said.
Comments will be moderated. Keep comments relevant to the article. Remarks containing abusive and obscene language, personal attacks of any kind or promotion will be removed and the user banned. Final decision will be at the discretion of the Taipei Times.