Hundreds protest plan to evict sex worker collective
More than 200 people took to the streets of Taipei yesterday to protest a real-estate investor's plan to evict the Collective of Sex Workers and Supporters (COSWAS) from the Wenmeng Building (文萌樓), a former brothel in Datong District (大同).
Along with the other two-story brick houses lined up on either side of it, the Wenmeng Building has been part of the Taipei's architectural makeup for nearly 100 years. Prior to the city government's official abolition of prostitution licenses in 1997, the neighborhood in Datong had long been a popular red-light district.
Today, the former brothel is the only building that is still somewhat connected to its past as it has been repurposed into a small, private sex industry museum run by the collective, while also serving as a home for former licensed prostitutes and a base for the group's campaign to re-legalize prostitution.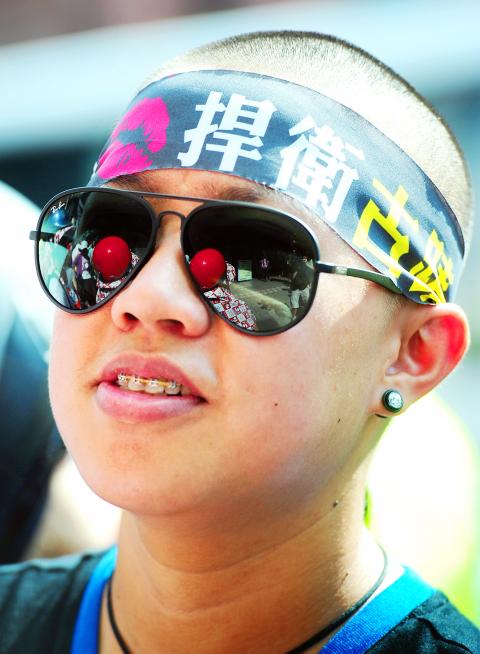 An activist yesterday attends a rally against a real-estate investor's plan to evict the Collective of Sex Workers and Supporters from the Wenmeng Building in Datong District, Taipei, along with former prostitutes who live there. The protester's headband reads "Protect historic buildings," because the former brothel was designated a culturally significant structure by the Taipei City Government last year.
Photo: Lo Pei-der, Taipei Times
The structure has been designated a historic building by the city government, but since real-estate investor Lin Li-ping (林麗萍) purchased the property three years ago, she has been trying to oust the collective from there.
"I am very angry about it, we've been here for decades, it does not make any sense that she [Lin] is trying to kick us out," former sex worker Li-chun (麗君) said tearfully as she demonstrated in the street in her wheelchair. "My body is suffering, but as long as I can talk, I will protest."
Another former sex worker, Hsiao-yu (小玉), said that the Wenmeng Building is historically symbolic.
"We spent decades of our youth here; our work, sweat and tears are all in here," she said. "This is why the city government has designated it a historic building."
"The new owner does not even know the building, how could she manage it? She should at least learn from us for three or five years before she kicks us out," Hsiao-yu added.
The law stipulates that a historic building may be bought and sold, but holds the owner responsible for its maintenance, requiring that they devise a plan for the structure's management for the local cultural affairs authority.
COSWAS secretary Wu Jo-ying (吳若瑩) said that while an owner cannot demolish a historic building, they can profit immensely from ownership alone.
"Wenmeng Building is located in a commercial zone, so if the building's owner wants to erect a new 20-story edifice in its place, but cannot because it is illegal to tear down a historic structure, they may transfer the right to construct the new building elsewhere and may end profiting hugely if property prices are higher in the new location," Wu said. "That is why Lin has bought the Wenmeng Building."
COSWAS executive director Chung Chun-chu (鍾君竺) said that while the public tend to be very concerned when development projects affect people such as farmers, "not much attention is paid to sex workers, even though many have been evicted from their residences or forced 'underground' as cities develop."
After departing Guishui Park (歸綏公園), the assembly point for the protest, the demonstrators made stops outside Lin's home and her real-estate development company before arriving at the city government's Department of Cultural Affairs' Cultural Heritage Office in Taipei's Wanhua District (萬華).
Comments will be moderated. Keep comments relevant to the article. Remarks containing abusive and obscene language, personal attacks of any kind or promotion will be removed and the user banned. Final decision will be at the discretion of the Taipei Times.