Lawmakers grill top two Control Yuan nominees
The legislature began vetting the nominees for Control Yuan president and vice president yesterday on the first day of a three-day review of Control Yuan nominations in the final week of the extraordinary session.
Chang Po-ya (張博雅), who heads the Central Election Commission (CEC) and has been nominated to head the Control Yuan, has been dogged by controversy over her "fast handling" — as commission head — of a case involving Legislative Speaker Wang Jin-pyng's (王金平) status as a Chinese Nationalist Party (KMT) legislator-at-large.
Chang reportedly processed the KMT's documents to recall Wang as a lawmaker as a "high priority" case to get it passed immediately, signing off on the documents within 30 minutes of them appearing at the commission right before its office closed for the day.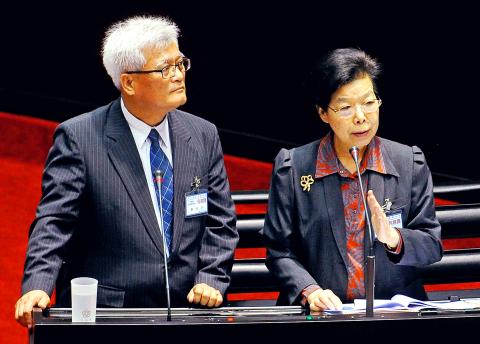 Control Yuan vice-presidential nominee Sun Ta-chuan, left, and presidential nominee Chang Po-ya, right, answer lawmakers' questions in the Legislative Yuan in Taipei yesterday.
Photo: Chu Pei-hsiung, Taipei Times
Chang yesterday rebuffed the accusation.
"[Wang's] case was processed in a 'standard' manner, rather than as a 'high priority' case. It was handled in the same way as the cases of former Taiwan Solidarity Union legislator Lin Shih-chia (林世嘉) and former Democratic Progressive Party [DPP] legislator Chiu Chang (邱彰)," she told reporters before the question-and-answer session began.
Chang said it was impossible for her to intervene in the alleged political feud between President Ma Ying-jeou (馬英九) and Wang — which gave rise to the attempted recall of Wang's legislator status — and that she has been "smeared" by attempts to portray her actions as out of the ordinary.
During yesterday's session, DPP Legislator Chen Ting-fei (陳亭妃) said Chang was"[Ma's] political hatchet man," who is being promoted for her "excellent performance."
Chen also said that a DPP questionnaire distributed to the 29 Control Yuan nominees, at least 72 percent of them had refused to answer whether they would have agreed — if they had been in the Control Yuan at the time — with the attempt to impeach former prosecutor-general Huang Shih-ming (黃世銘).
Huang was convicted in March of leaking confidential information to Ma about an on-going investigation into allegations of influence-peddling involving Wang and DPP caucus whip Ker Chien-ming (柯建銘) in September last year.
A motion to impeach Huang was voted down twice by the Control Yuan before he tendered his resignation on his own.
People First Party (PFP) Legislator Chen Yi-chieh (陳怡潔) questioned the Control Yuan's independence and neutrality as one of the five branches of government, saying that neither Huang nor Keelung Mayor Chang Tung-jung (張通榮), both of whom were later indicted, were impeached by the Control Yuan, while members of the former DPP government were impeached and yet courts later found them not guilty of the charges against them.
The PFP lawmaker, as well as DPP Legislator Hsiao Bi-khim (蕭美琴), asked Chang whether she would agree to make public how Control Yuan members vote in an impeachment case. Such votes are now conducted by secret ballot.
"What the citizens want is a more transparent government, as called for by [the Sunflower movement]. We would like to see whether the members can exercise impartial judgement," Hsiao said.
Chang said the Control Yuan is required by law to vote via secret ballots, but she personally considers it feasible to publicize information, such as the members' statements in support of or opposing an impeachment.
Control Yuan vice presidential nominee Sun Ta-chuan (孫大川), a Puyuma Aborigine and former head of the Council of Indigenous Peoples, was reminded by several KMT legislators who are Aborigines that the indigenous people of this nation face a dire situation and their rights need be further protected.
Hsiao asked Sun not to stay silent about Aboriginal rights "just to be the Han Chinese's high-ranking official," referring to remarks that Ma has made about Aborigines.
Comments will be moderated. Keep comments relevant to the article. Remarks containing abusive and obscene language, personal attacks of any kind or promotion will be removed and the user banned. Final decision will be at the discretion of the Taipei Times.