Protests against official turn bloody
CONFLICTING VIEWS: The Fo Guang Shan Buddhist temple was the only venue in Kaohsiung where the visiting Chinese official escaped angry protests
The protests against China's Taiwan Affairs Office Minister Zhang Zhijun (張志軍) in Greater Kaohsiung yesterday turned bloody as a student trying to block his motorcade from leaving the Grand Hi-lai Hotel Kaohsiung was injured in the head, while fierce quarrels broke out between protesters and supporters welcoming his visit.
Despite being flanked by the police wherever he went, protesters were within throwing distance of Zhang when he arrived at Taiwan High Speed Rail Zuoying station at 8:20am to begin his one-day trip in the city and when he got to a resort at Sizihwan (西子灣) to have a chat with Mainland Affairs Council Minister Wang Yu-chi (王郁琦) over tea at night.
Before Zhang arrived at the Zuoying station, the lobby was packed with hundreds of protesters shouting: "Zhang Zhijun, get out of here."
Pro-democracy activists in red and orange vests scuffle with police officers in black and blue shirts as Zhang Zhijun, director of China's Taiwan Affairs Office, arrives in Kaohsiung yesterday.
Photo: Reuters
Against them were other groups chanting: "Both sides are one family. Welcome Director Zhang."
A woman shouted at a man: "Are you not a Chinese? Don't you have Chinese genes in your blood?"
The man shouted back: "Why am I a Chinese? I am a Taiwanese. If you think you are a Chinese, you might as well go back to China."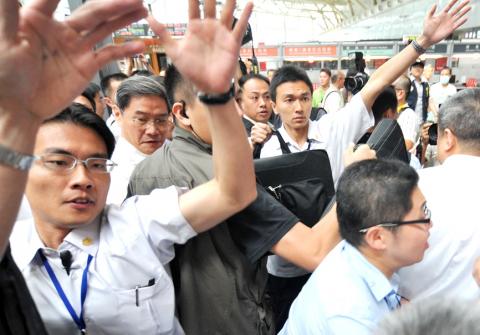 China's Taiwan Affairs Office Minister Zhang Zhijun, second left, looks back after he had a water bottle thrown at him during his visit to Greater Kaohsiung yesterday.
Photo: Huang Chih-yuan, Taipei Times
The police escorted Zhang to leave the station from a side gate, but he was nearly hit by a bottle of water by the other group of demonstrators.
At the Sizihwan Sunset Beach Resort where Zhang was to meet again with Wang, the police were caught unaware when about 100 people organized by the Taiwan Solidarity Union and the Black Island National Youth Front splashed white paint and threw paper money at Zhang's vehicle.
Zhang was about to alight from the vehicle at that time. He was not hit by the paint, but the vehicle and some of the police and security agents who used umbrellas and bulletproof plates to protect Zhang were splashed with paint.
The protesters held posters that read: "Taiwan, China. One country on each side," and "The future of Taiwan is to be decided by Taiwanese."
A protester fainted and was taken away in an ambulance.
Earlier yesterday, National Sun Yat-sen University graduate student Chuang Chen-yang (莊程洋) was sent to a hospital to get 10 more stitches for a 3cm deep wound on his left forehead in a protest outside the Grand Hi-lai where Greater Kaohsiung Mayor Chen Chu (陳菊) sat down with Zhang for a discussion.
At the same time, dozens of people, mostly female Chinese spouses, chanted slogans: "Taiwan, mainland, peaceful unification" at the other side of the square.
Police separated them from the protesters to prevent possible clashes.
When Zhang went to a park in the city for a short visit of 10 minutes, a man waved a national flag of the Republic of China at a distance shouting at him: "Zhang Zhijun, go back to China and bring Ma Ying-jeou (馬英九) back."
Zhang received a warm welcome when he visited Fo Guang Shan (佛光山), a Buddhist temple, with practitioners in kasaya lining from the entrance and waving flags to welcome him. It was the only venue in which he did not encounter protesters.
Meanwhile, back in Taipei, an unidentified graffiti artist protested by painting the words "NOVOTEL 649" on the wall of Chiang Kai-shek Memorial Hall in Taipei.
It came after Wednesday's incident in which rights activist lawyer Lai Chung-chiang (賴中強) and members of Democracy Tautin were first asked to leave a room at Taiwan Taoyuan International Airport's Novotel by hotel staff.
In an unsigned statement sent to the Taipei Times via e-mail, the artist said that what the hotel staff and the police did was something that would only be done by an authoritarian regime, and therefore the protest graffiti was painted on the wall of the building that commemorates a dictator.
Additional reporting by Loa Iok-sin
Comments will be moderated. Keep comments relevant to the article. Remarks containing abusive and obscene language, personal attacks of any kind or promotion will be removed and the user banned. Final decision will be at the discretion of the Taipei Times.