Keelung speaker granted fresh bail
Keelung City Council Speaker Huang Ching-tai (黃景泰) was released on bail of NT$2 million (US$66,650) yesterday afternoon by the Keelung District Court after the Taiwan High Court a day earlier ordered the district court to reconsider its previous decision to release him on bail.
The Keelung District Prosecutors' Office asked on Wednesday that Huang be detained on suspicion of influence peddling in a number of construction projects, while the district court on Thursday morning ruled that Huang be released on bail of NT$1.2 million, but barred him from traveling overseas.
After prosecutors appealed the ruling with the Taiwan High Court, the High Court on Thursday ordered the district court to reconsider whether to detain Huang, adding that Huang has not cleared up the source of NT$5 million in cash that was found in his office by investigators.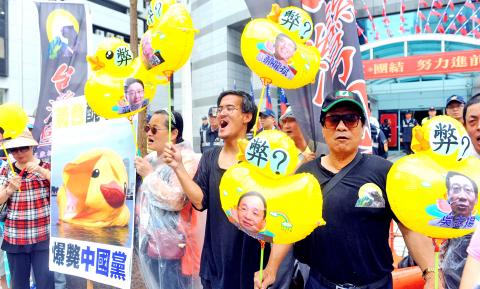 Members of the Taiwan Republic Campaign hold up signs and inflatable yellow ducks outside the Chinese Nationalist Party (KMT) headquarters in Taipei yesterday to protest against alleged corruption involving KMT officials. Dutch artist Florentijn Hofman's giant Rubber Duck installation burst when on display in Keelung and Taoyuan earlier this year, while KMT officials from both cities have been facing corruption allegations.
Photo: Chang Chia-ming, Taipei Times
Huang made six telephone calls and sent two text messages to a woman surnamed Chang (張) while investigators were searching his office, suggesting he might conspire on statements if he is set free, the High Court said.
The district court held a hearing at 11am yesterday and announced at 5pm that Huang was to be released on NT$2 million bail.
The district prosecutors' office immediately appealed the decision with the High Court for the second time.
Huang, a member of the Chinese Nationalist Party (KMT), was questioned by prosecutors on suspicion of involvement in pressuring Keelung City Government officials on construction projects.
The prosecutors on Tuesday found stashes of cash in New Taiwan dollars and Chinese renminbi with an estimated total value of NT$5 million in Huang's office.
In other news, former Chiayi County council speaker Yu Cheng-tah (余政達) was placed on the wanted list yesterday by the Chiayi District Prosecutors' Office after he failed to report to the office to serve a prison term.
The warrant will remain in effect for 50 years, until 2064.
The 53-year-old's guilty verdict, for soliciting a bribe of NT$1 million from local businessmen in 2007 when the county organized street fairs for the Taiwan Lantern Festival, was upheld by the Supreme Court on May 22.
In the final verdict on the case, the Supreme Court gave Yu a prison sentence of 10 years and four months, and suspended his civil rights for five years.
Yu was reported missing right after the Supreme Court's announcement was made.
The office said it issued a warrant ordering Yu, an independent, to turn himself in on June 6 to start his sentence, but Yu failed to arrive at the office.
The office suspected that Yu might have fled to China or another country.
Comments will be moderated. Keep comments relevant to the article. Remarks containing abusive and obscene language, personal attacks of any kind or promotion will be removed and the user banned. Final decision will be at the discretion of the Taipei Times.