After poll loss, DPP's Yao backs Ko for Taipei
Democratic Progressive Party (DPP) Legislator Pasuya Yao (姚文智) yesterday pledged his unconditionally support to Taiwan University Hospital physician Ko Wen-je (柯文哲) in the Taipei mayoral election in November, after he lost to his independent rival on Friday in a public opinion poll to determine the pan-green camp's final candidate for the contest.
Thanking his backers for their support, the lawmaker yesterday said he respects the results of the poll and would endeavor to help Ko win the election.
The party's integration panel said the poll's results are to be referred to the its Central Executive Committee meeting on Wednesday for a final decision.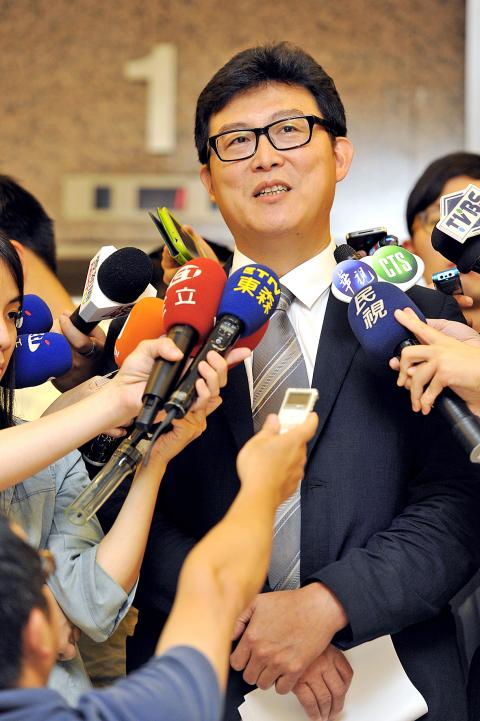 Democratic Progressive Party Legislator Pasuya Yao talks to reporters in Taipei yesterday.
Photo: George Tsorng, Taipei Times
Ko is widely expected to represent the pan-green camp in the Taipei mayoral race in November and run against Chinese Nationalist Party (KMT) candidate Sean Lien (連勝文) if the DPP decides not to nominate a candidate from its ranks.
Political observers say Ko must figure out how to maintain the straight-talking style that has seen him dominate opinion polls, while offering voters substance in terms of his policy ideas and political plans and all the while keeping his foot out of his mouth.
Ko's spokesperson Chien Yu-yen (簡余晏) has said the mayoral hopeful will aim to "speak more cautiously in the future," while bidding not to disappoint his assistants, who hope the novice politician will stay true to his character of "telling it like it is."
However, Ko has shown no sign of toning down the penchant for sharp rhetoric that in May last year saw him declare: "This country has gone mad," after receiving a summons from the Investigation Bureau's Taipei office over allegations of corruption in one of his research projects.
Yet Ko will have to present more than biting criticism of the government to convince Taipei voters he is the right person to govern the city.
In an ironically comedic twist, Ko is partly responsible for his rival, Lien, being eligible to run against him because he helped debunk rumors that the KMT candidate staged a shooting and faked injuries to garner sympathy votes for KMT candidates on the eve of the 2010 municipal elections.
Lien was shot in the face while stumping for a New Taipei City councilor candidate at a public rally and it was Ko, as a specialist in emergency medicine at National Taiwan University Hospital, who led a team of physicians to operate on Lien after the shooting.
A TVBS poll conducted on the nights of June 5 and 6 gave Ko a 45 to 39 percent advantage in the race, the first time a public poll has not put Lien in front.
Comments will be moderated. Keep comments relevant to the article. Remarks containing abusive and obscene language, personal attacks of any kind or promotion will be removed and the user banned. Final decision will be at the discretion of the Taipei Times.