British Council outlines Shakespeare observances
The nation will hold a series of events to commemorate the 450th anniversary of William Shakespeare's birth this year, organizers said yesterday.
The events are to continue until 2016, the 400th anniversary of the literary giant's death, they added.
The British Council in Taiwan, in collaboration with various institutions, government agencies and enterprises, plans to hold a series of events, including theater, dance, literature and exhibitions, the council's Taipei director Lai Hsin-yuan said.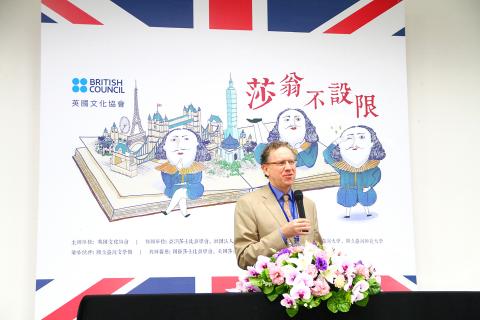 Executive Committee of the International Shakespeare Association chairman Peter Holbrook delivers a speech on William Shakespeare at an event organized by the British Council in Taipei yesterday.
Photo: CNA
"We would like to use this opportunity to link Taiwan with the rest of the world," Lai said.
One of the highlights is to be a performance of Romeo and Juliet by Britain's Royal Ballet at Taipei's National Theater late next month, he added.
The council also plans to launch an online activity in which the public is urged to personalize famous Shakespearean quotes by making them reflect their own lives, Lai said.
"We hope people will not just take part as watchers, but will also actually get involved with the events," he said.
The press conference coincided with the first conference of the Asian Shakespeare Association in Taipei from Thursday until tomorrow, which has drawn about 250 scholars and performers from around the world.
Beatrice Lei, chairwoman of the association's executive committee and an associate professor at National Taiwan University, said that a database featuring Taiwanese actors performing Shakespeare's works has gone online, with a bilingual interface.
Also, the National Museum of Taiwan Literature has proposed hosting the touring Shakespeare Birthplace Trust exhibition next year. Meanwhile, the International Shakespeare Association (ISA) yesterday announced the theme of its 2016 Congress — "Creating, Recreating Shakespeare" — to be held in England.
"William Shakespeare is not of an age, but for all times," association chairman Peter Holbrook said yesterday in Taipei.
Holbrook also invited fans of the legendary playwright to visit English event in late July 2016, which he said would be full of spectacular performances and compelling celebrations.
Founded in 1974, the ISA has organized nine Shakespeare congresses. The 10th World Shakespeare Congress is to be held in Stratford-upon-Avon and London from July 31 to August 6, 2016.
The events will take place first in Stratford-upon-Avon, among the key sites of Shakespeare's personal life and in London, close to the site of his most famous workplace, the Globe Theatre, Holbrook said.
Comments will be moderated. Keep comments relevant to the article. Remarks containing abusive and obscene language, personal attacks of any kind or promotion will be removed and the user banned. Final decision will be at the discretion of the Taipei Times.