Office tracks Vietnam travelers
MORE SEATS: China Airlines said it would be sending larger aircraft on its flights to Ho Chi Minh City to help evacuate Taiwanese businesspeople who wanted to leave
The Tourism Bureau reported yesterday that less than 1,000 Taiwanese tourists are traveling in Vietnam at the moment, but none of them are in the violence-stricken southern Binh Duong Province.
Riots erupted in the province north of Ho Chi Minh City on Tuesday night during protests against Chinese oil drilling in a disputed area of the South China Sea. Protesters were reported to have broken into factories owned by Taiwan, Japan, South Korea or Singapore, destroying the facilities and pillaging valuable items.
According to the bureau, there are 943 Taiwanese tourists in Vietnam now. A majority of them are traveling in northern Vietnam, with 25 scheduled to return from Ho Chi Minh City last night. The number does not include free independent travelers, the bureau said.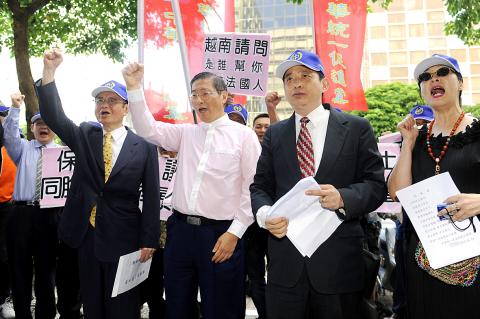 Former gang leader Chang An-le, known as the "White Wolf," center, and fellow pro-unification supporters protest outside the Vietnam Economic and Cultural Office in Taipei yesterday.
Photo: Chen Chih-chu, Taipei Times
Aside from the travelers who are in Vietnam now, the bureau said that 2,259 Taiwanese tourists are scheduled to visit Vietnam between now and the end of this month, although only 32 of them plan to visit southern Vietnam.
The escalating violence had caused the Ministry of Foreign Affairs to raise the travel alert in Binh Duong and Dong Nai provinces from yellow to orange, meaning that travelers should be extremely cautious and avoid unnecessary trips to the two provinces.
The ministry said in an online statement that the Binh Duong provincial government mobilized about 2,000 police officers to restore order in the city. However, the provincial government was seeking assistance from the Vietnamese government as the number of protestors topped 20,000. The situation in Dong Nai Province is relatively stable, it added.
Yang Wen-ping (楊文彬), who monitors the travel market in the Southeast Asian nations for the Travel Agent Association (TAA), said that 90 percent of Taiwanese tour groups only travel to scenic attractions in northern Vietnam, such as Ha Long Bay. Even if they travel to southern Vietnam, they only visit Ho Chi Minh City or Vung Tau, a seaside city, he said.
"The riot mainly took place in Binh Duong, which is an industrial district. No Taiwanese tourists would visit there. Only Taiwanese businessmen would go there," Yang said, adding that travel agents have yet to receive any cancellations.
However, some people did call and ask about the updated situations in the country.
Yang said that they have contacted their sources in Vietnam, who told them that people in cities like Hanoi and Ho Chi Minh City continue their lives as usual.
Meanwhile, China Airlines announced yesterday that it would dispatch larger aircraft for services to Ho Chi Minh City today to help evacuate Taiwanese businesspeople who wish to return.
The bigger aircraft will expand the seating capacity by 344 seats, the airline said.
According to Civil Aeronautics Administration, China Airlines and EVA Airways will provide a total of 405 additional seats for today's flights to Ho Chi Minh City.
A Taiwanese businesswoman returning to Taiwan yesterday afternoon described in a television news interview the unruly situation in the protest area.
"It was getting dark. We were turning off all the lights in the office, pretending that nobody was inside. However, they did not care and came in anyway. They trashed everything, windows or whatever they saw. When they came back again, we decided to hide in the warehouse because we saw them attacking workers in the factory across the street. Even though we did not get hurt, I was terrified and began thinking about my children," she said.
Another Taiwanese woman surnamed Chao (趙) spoke to the Taipei Times in a Facebook message from Ho Chi Minh City yesterday, saying that the situation there was relatively quiet.
"We are fine. My daughter's school has been canceled for the rest of the week. We just stay at home and do not dare go anywhere," she said. "Our neighborhood seems rather peaceful. We did not really know much about the situation outside."
Comments will be moderated. Keep comments relevant to the article. Remarks containing abusive and obscene language, personal attacks of any kind or promotion will be removed and the user banned. Final decision will be at the discretion of the Taipei Times.