Banana cake baker urges support for Sunflowers
LET THEM EAT CAKE: A baker from Chiayi said she has seen a surge in interest among her friends for political matters since the actions over trade and nuclear issues
The recent surge in student activism, from the Sunflower movement to protests over the Fourth Nuclear Power Plant, has found a great amount of support outside of the student body, including the work of Chi-fang Bakery in Chiayi County's Singang Township (新港).
Ko Chi-fang (柯綺紡), a mother and baker, recently baked a cake that she named "Extraordinary Bananas" (非凡的香蕉) to celebrate Mother's Day, and also to "support the student movement from the angle of being a mother."
The cake's name has a double meaning, incorporating Sunflower movement leader Lin Fei-fan's (林飛帆) name and the banana motif popularized by student activists.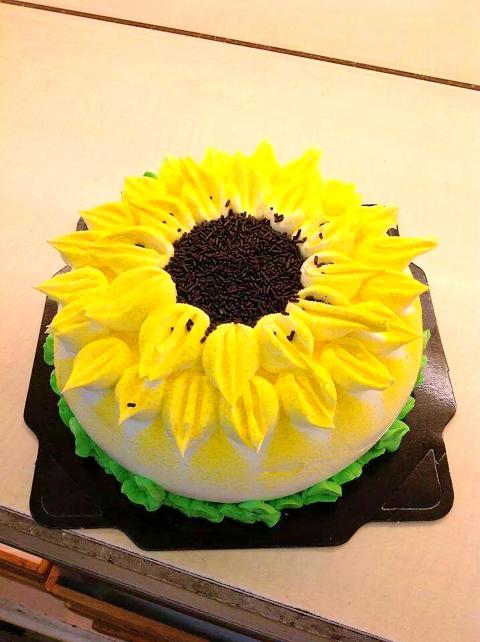 A cake named "Extraordinary Bananas" created by Chiayi County baker Ko Chi-fang is pictured on Sunday. The cake's name in Chinese — Feifande xiangjiao — is a wordplay on Sunflower movement leader Lin Fei-fan's name and can be read as "Fei-fan's bananas."
Photo: Lin Yi-chang, Taipei Times
The banana motif has its origins in a comment by former Chinese Nationalist Party (KMT) Legislator Chiu Yi (邱毅), who during a TV political talk show said that people in the Sunflower movement were actually bananas delivered by the Democratic Progressive Party.
Ko has owned a bakery in Singang for the past 12 years and is active in social welfare. She is known to give products to school children who provide proof, usually an exam paper, that they scored more than 94 percent in a test or have a certificate showing that their grades have improved.
When student-led protesters broke into the Legislative Yuan in Taipei on March 18, Ko said she was moved to see the students fighting for the nation's future.
Ko said that since the sunflower and banana motifs have been made popular by the Sunflower movement, she made the cake with banana pudding as the filling and drew sunflowers on it with yellow-colored cream and chocolate sprinkles.
"I made Extraordinary Bananas for fun, but I hope more people become more involved in what the students are doing," Ko said.
She said that a lot of mothers support the movement and are becoming more concerned for their children's future.
"Many of my friends have changed their minds on certain matters," Ko said, giving elections as an example.
"They often said that after casting a ballot nothing concerned them and referendums certainly did not interest them," Ko said, adding that "now they have begun to say they want to see white papers on the candidates' policies before making a decision, instead of just voting for whoever they had heard was good."
Comments will be moderated. Keep comments relevant to the article. Remarks containing abusive and obscene language, personal attacks of any kind or promotion will be removed and the user banned. Final decision will be at the discretion of the Taipei Times.