NUCLEAR POWER DEBATE: KMT touts Gongliao 'refrigeration'
Chinese Nationalist Party (KMT) Legislator Lin Yu-fang (林郁方) said that the Fourth Nuclear Power Plant in New Taipei City's Gongliao District (貢寮) "would be refrigerated permanently without any need for a referendum" for as long as electricity was in good supply.
The KMT's resolution on the facility was reached in a party meeting on Thursday night, with the "refrigeration" decision — which means the plant is left without fuel rods inserted and thus unactivated — called by many a "concession" by President Ma Ying-jeou's (馬英九) administration.
The resolution was based on Lin's proposal who yesterday morning said the facility should be "sealed up" and its future use left open, "so that if one day there is a shortage of electricity, the plant's activation would still be a viable option."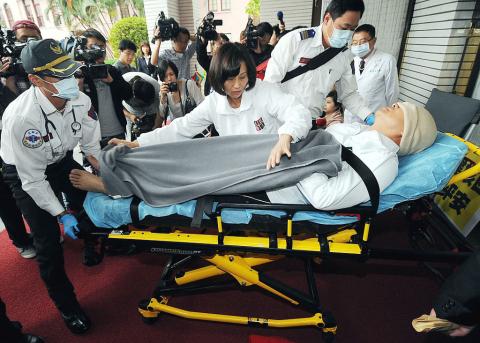 Democratic Progressive Party (DPP) Legislator Chen Ou-po, is rushed to hospital yesterday morning after he passed out.
Photo: Fang Pin-chao, Taipei Times
"If there is no such shortage, as anti-nuclear activists claim, then they don't have to worry about a possible referendum or an activation," he said, adding that the facility should not be scrapped "because you're not God or a prophet, so you cannot foresee whether there will be plenty of electricity in the future."
When asked about Taiwan Power Co's (Taipower) contribution to a report in the Chinese-language United Daily News about the costs involved in sealing the plant and a subsequent activation, Lin said that Taipower "is in no position to have a say in this discussion."
"They have changed their statements too often for the public to trust them," Lin said.
The state-owned entity did not actually give precise figures in the report.
He also commented on the existing referendum threshold stipulated under the Referendum Act (公民投票法).
"I have to agree with the Democratic Progressive Party [DPP] about the threshold being too high," Lin said, adding that referendums could be differentiated into two kinds: one type pertaining to national identity and security, which would require a higher threshold, and another to people's livelihood.
Meanwhile, KMT party caucus whip Lin Hung-chih (林鴻池) said he was not so sure about Lin Yu-fang's "no shortage, no referendum" dictum.
In a press conference yesterday, Lin Hung-chih, when asked about the schedule for a potential referendum, said that the referendum is to take place after the plant's completion and a safety check, with dates unspecified, according to the KMT's resolution.
Saying the aim of the resolution is to "allow the public to have enough time to deliberate and to think it through," Lin Hung-chih did not make affirmative response on Lin Yu-fang's promise of "sealing-up" the plant.
Meanwhile, DPP Legislator Chen Ou-po (陳歐珀), who accompanied former DPP chairman Lin I-hsiung (林義雄) on his hunger strike and mute protest on Tuesday, passed out yesterday morning due to low blood sugar levels and high blood pressure.
Chen had been expected to speak at the national-affairs forum on the legislative floor, where lawmakers were to voice their concerns over government policies.
Instead of speaking, he held up for the whole three-minute session assigned for each registered lawmaker a banner that read: "Stop the Fourth Nuclear Power Plant's construction to ensure [our] safety."
The lawmaker then reportedly collapsed suddenly when he returned to his sit-in position outside the chamber and was immediately taken to National Taiwan University Hospital.
Comments will be moderated. Keep comments relevant to the article. Remarks containing abusive and obscene language, personal attacks of any kind or promotion will be removed and the user banned. Final decision will be at the discretion of the Taipei Times.