TRADE PACT SIEGE: Politicians, civic groups lash out over crackdown
'PEACE': Two members of the US Congress urged the Ma government to ensure a non-violent, peaceful resolution to the raging conflict over the trade pact
Opposition parties, civic groups and academics yesterday condemned President Ma Ying-jeou's (馬英九) administration — notably Premier Jiang Yi-huah (江宜樺) — for ordering a bloody crackdown on students occupying the Executive Yuan, as part of a student movement now known as the Sunflower Revolution.
At about 1am yesterday, riot police and Taipei police, equipped with shields, truncheons and water cannons, carried out a five-hour eviction of thousands of protesters — who began occupying the Executive Yuan compound at about 7:30pm on Sunday — resulting in scores being injured.
"The DPP [Democratic Progressive Party] seriously condemns the police violence that took place [yesterday]. The DPP believes that water cannons should not be the sole method the police can rely on [to disperse the crowd]. Other countries use water cannons to disperse extremely rowdy crowds, often under the influence [of alcohol] or during sports events, but yesterday's crowds were students and young people who have ideological expectations of their leaders, and they represent our nation's future," the DPP said in a press release.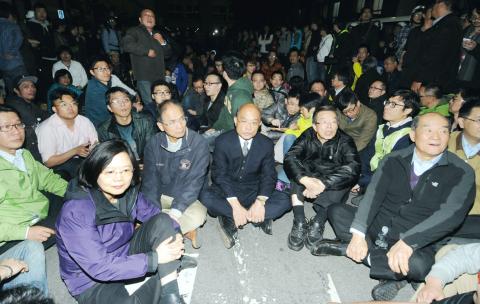 Front left to right, former Democratic Progressive Party (DPP) chairperson Tsai Ing-wen, former premier Yu Shyi-kun, DPP Chairman Su Tseng-chang, former premier Frank Hsieh and Taiwan Solidarity Union Chairman Huang Kun-huei take part a sit-in outside the Executive Yuan in Taipei early yesterday morning.
Photo: Lo Pei-der, Taipei Times
DPP Chairman Su Tseng-chang (蘇貞昌), accompanied by former chairperson Tsai Ing-wen (蔡英文), former premiers Frank Hsieh (謝長廷) and Yu Shyi-kun, caucus convener Ker Chien-ming (柯建銘) and lawmakers, visited the students at the Executive Yuan at 1:50am, trying to lower tensions and prevent police from using excessive force to no avail.
The Taiwan Solidarity Union described the crackdown as "Taiwan's Tiananman Massacre that is going to shock the world" in a press release.
Jiang's order of the crackdown was "bloody and violent" and ironic for the former National Taiwan University law professor, the party said, adding that Jiang should step down because he is no longer fit for the post of premier.
The pro-independence Taiwan Society said in a press release that the use of excessive force represented serious state violence and showed the authoritarian nature of Ma's government.
The group demanded that Ma and Jiang apologize for the bloody crackdown, renegotiate the cross-strait service trade agreement and immediately release student leader Dennis Wei (魏揚) who was involved in the siege of the Executive Yuan,.
With reports of the crackdown spreading overseas, two leading US lawmakers called for peace in dealing with the protesters.
US House Committee on Foreign Affairs Chairman Ed Royce and US Senator Sherrod Brown, who is also a founding member of the Congressional Taiwan Caucus, urged Ma to ensure a non-violent, peaceful resolution.
"My thoughts are with Taiwanese students and other protesters expressing opposition to a proposed economic pact with China," Brown said.
"The world is watching these courageous students," the Ohio Democrat said. "The message to President Ma is that when you try to jam a trade agreement through, people will resist."
Supporting Brown's remarks, Royce added: "It is very important that things be handled peacefully."
While a US Department of State official refused to comment on the situation, a well-informed source within the department told the Taipei Times that developments were being closely monitored in Washington.
Meanwhile, renowned US-based historian Yu Ying-shih (余英時) of Academia Sinica endorsed the student movement in an open letter yesterday highlighting Taiwanese young people's deep mistrust of China.
Citing his personal connections in Taiwan, Yu said the student movement should not be mistaken as a campaign motivated by any political party because it has been a pure civic movement.
Yu said he saw the protest as a movement to protect and upgrade Taiwan's democratic system because the public and the government should have an equal voice.
Additionally, Yu warned Taiwan against underestimating China's strategy of using economic means to achieve its political goals.
When China locks Taiwan in its economic network, the time for unification will be ripe, Yu said.
The historian said democracy would be the best tool to guarantee Taiwan's security and that was why China has been trying to undermine Taiwan's democratic system.
Additional reporting by William Lowther
Comments will be moderated. Keep comments relevant to the article. Remarks containing abusive and obscene language, personal attacks of any kind or promotion will be removed and the user banned. Final decision will be at the discretion of the Taipei Times.