Laid-off workers' loans to be redistributed: premier
Money repaid by workers before 2012 in line with the then-Council of Labor Affairs' request at the time will be returned in view of the latest High Administrative Court ruling against the government in its bid to recoup loans paid to factory workers in the 1990s when their employers went bust, Premier Jiang Yi-huah (江宜樺) said yesterday.
The case dates back to the 1990s, when more than 1,000 workers were laid off without severance or retirement pay.
The government established a job security fund to issue loans defined as re-employment assistance for the workers.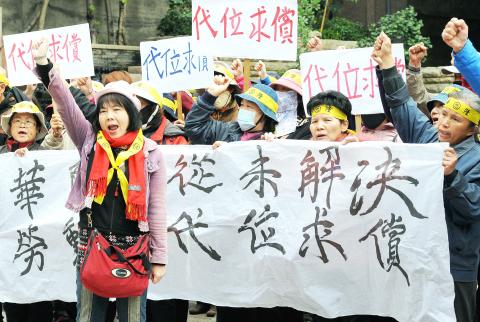 Members of a self-help organization for people who used to work at Hualon Textile Corp protest outside the Ministry of Labor in Taipei yesterday. The protesters called on the ministry to seek compensation for them from their former employer, as the then-Council of Labor Affairs did for factory workers in the 1990s when their employers went out of business.
Photo: Chu Pei-hsiung, Taipei Times
To recover unpaid loans, the then-Council of Labor Affairs filed lawsuits in 2012 against loan recipients who had not repaid the debts, sparking anger among displaced workers, their supporters and activists, who have staged highly visible protests over the past year.
On March 7, the court ruled against the ministry, saying the loans were, in effect, compensation to the laid-off workers. It also found that the deadline for the government to pursue the matter — January 2006 — had long passed.
On Monday, the ministry said that it would not appeal the ruling, adding that it will drop similar cases against other former factory workers and that those who have repaid the loans will have their money returned.
Payments would also be returned to former workers who paid off the loans before 2012, Jiang said yesterday when answering questions from Chinese Nationalist Party (KMT) Legislator Lu Yu-ling (呂玉玲) at the Legislative Yuan.
Jiang said the decision to return the money to workers who were "more law-abiding" was made on Thursday night, on the principles of equality.
"Workers who were more law-abiding and returned the funds early should not have to suffer different treatment," he said.
Meanwhile, Minister of Labor Pan Shih-wei (潘世偉) said the Ministry of Labor was leaning toward paying back the funds through the Employment Security Fund, but that the decision depends on the results of an Employment Security Fund management committee meeting.
Pan said that the ministry still considered the loans as such and not subrogation payments, meaning the government is not responsible for claims against the shuttered businesses.
Pan added that since the statute of limitations had expired, trying to reclaim the funds would be unlawful.
Comments will be moderated. Keep comments relevant to the article. Remarks containing abusive and obscene language, personal attacks of any kind or promotion will be removed and the user banned. Final decision will be at the discretion of the Taipei Times.