'Darling, come back' collectible train tickets sell out
Commemorative train ticket sets that mark Valentine's Day with a play on words sold out in just over an hour after going on sale at a Taiwan Railways Administration station yesterday.
The tickets, dated Feb. 14, 2014, were for a one-way trip from Dalin (大林, pronounced similarly to "darling" in English) station in Chiayi County to Gueilai (歸來, literally: "come back") station in Pingtung County, making the "Darling, come back" tickets a popular item for couples and collectors.
The tickets went on sale at 9am at Pingtung Station, but all 3,500 sets were sold out by 10:14am.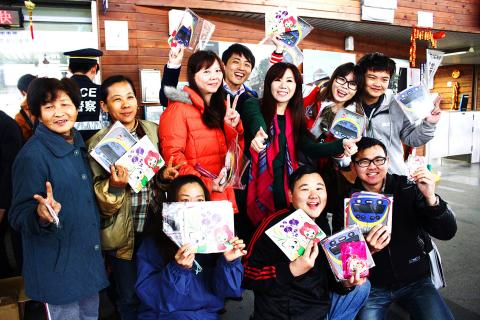 People hold up Taiwan Railways Valentine's Day ticket packs outside Dalin Station in Chiayi County yesterday.
Photo: Lin Yi-chang, Taipei Times
Another 200 sets on sale at Dalin Station were snatched up in less than 20 minutes.
First in line at Dalin Station was a man surnamed Cheng (鄭) from nearby Chiayi City, who lined up at 5:08am.
Cheng said the ticket was in remembrance of his girlfriend.
The two never had the chance to spend Valentine's Day together before she died of illness in November last year, he said.
"Hopefully this belated present can make up for my regrets," Cheng added.
Over the years, the railway agency has launched a number of commemorative ticket packages that play on the names of specific stations.
One of the most popular was a commemorative ticket set featuring Yongkang (永康) and Baoan (保安) stations in Greater Tainan.
If read clockwise, the characters say yongbao ankang (forever in peace and health).
Comments will be moderated. Keep comments relevant to the article. Remarks containing abusive and obscene language, personal attacks of any kind or promotion will be removed and the user banned. Final decision will be at the discretion of the Taipei Times.