Poll shows strong support for Frank Hsieh initiative
VOTE-WINNER: Chao Tien-lin said 'two constitutions, different interpretations' was favored over the so-called '1992 consensus' because of its pragmatism
An opinion poll released yesterday showed that former premier Frank Hsieh's (謝長廷) initiative of "two constitutions, different interpretations (憲法各表)" has stronger support than the so-called "1992 consensus" advocated by the Chinese Nationalist Party (KMT) and Beijing.
While 57.9 percent of the respondents said they supported Hsieh's proposal, 45.4 percent of those polled supported the "1992 consensus," Harbor Cities Exchange Foundation executive director Chan Chao-tsung (詹昭聰) said at a press conference in Taipei.
Hsieh's proposal has bipartisan support, winning recognition from 60.9 percent of those who identified as pan-green supporters and 70.9 percent of pan-blue supporters.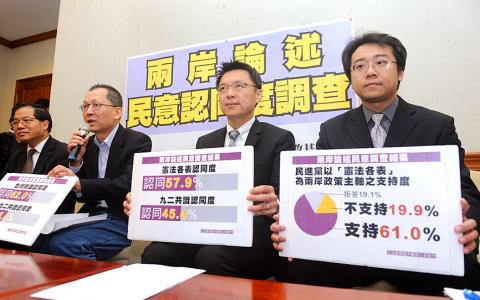 Democratic Progressive Party (DPP) Legislator Chao Tien-lin, second right, releases the results of an opinion poll in Taipei yesterday.
Photo: Liao Chen-huei, Taipei Times
"The results show that [Hsieh's initiative] has the potential to become the consensus of the Taiwanese people," said Democratic Progressive Party (DPP) Legislator Chao Tien-lin (趙天麟), who is close to Hsieh, adding that the initiative could become "version 2.0 of Taiwan's China policy."
The poll found that 61 percent of respondents supported Hsieh's proposal becoming the DPP's formal China policy, including 84.9 percent of pan-green supporters.
Chao said "two constitutions, different interpretations" was favored over the 1992 consensus, which was relatively unpopular among the 20 to 39 age group and in the south, because of its pragmatism and was seen as being better than the DPP's past proposal of "name rectification and new constitution," which many dubbed as provocative.
The poll, conducted between Thursday last week and Sunday, collected 1,071 valid samples and had a margin of error of 3.01 percentage points.
Decreasing support rates for the 1992 consensus showed the public's disappointment with and suspicion of President Ma Ying-jeou's (馬英九) cross-strait policies, National Sun Yat-sen University professor Lin Wen-cheng (林文程) said.
"Ma should take note of his disconnection from mainstream public opinion," Lin said.
Responding to the survey, Hsieh said at a separate setting yesterday that he was glad the initiative has won majority support.
"I've been criticized a lot over the initiative, but the results show that it has the support of 61 percent of Taiwanese, with Washington viewing it acceptable and Beijing seeing it as tolerable," Hsieh said.
Comments will be moderated. Keep comments relevant to the article. Remarks containing abusive and obscene language, personal attacks of any kind or promotion will be removed and the user banned. Final decision will be at the discretion of the Taipei Times.