Museum hosts foot binding exhibition
A physician, who has been interested in the Chinese practice of foot binding since an early age, has put his collection of thousands of artifacts on display.
The result of David Ko's (柯基生) endeavor over the past three decades is being exhibited through Jan. 26 at the Sansia History Museum in Sansia District (三峽), New Taipei City (新北市).
Ko said the foot-binding custom has more than 1,000 years of history in China, while it was only in the relatively modern era that Taiwan took up the practice.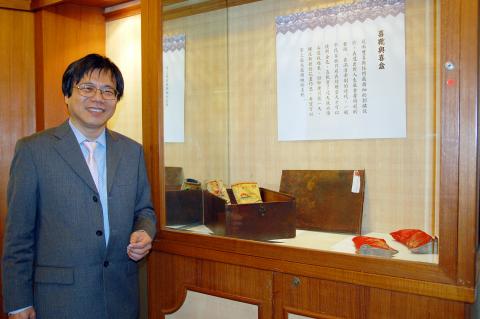 David Ko poses beside a display case at an exhibition of his collection of foot binding paraphernalia on Saturday at the Sansia History Museum in Sansia, New Taipei City.
Photo: Wang Kai-lin, Taipei Times
"Foot-binding was introduced to Taiwan by the occupying army of the Ming Dynasty warlord Koxinga [Cheng Chen-kung, 鄭成功] in the 17th century, but it only really spread to the common folk in the 19th century," he said.
"In the beginning, the settlers from China were mostly poor and faced difficult living conditions in Taiwan. It was only later on when some people became prosperous, that female foot-binding became more common, especially among urban residents," said. "At its peak, one estimate indicated that up to 70 percent of women in Taiwan had their feet bound."
Women's rights activists have said the custom amounts to enslaving females — giving them a life of pain and restricted movement. They have said it was the Chinese patriarchal society's way of suppressing women — deforming their feet to satisfy a male notion of erotic desire. As such, activists have said it should not be romanticized nor promoted as some kind of fashion concept or an appealing cultural legacy.
Ko said his research showed that the Hakka, mountain Aboriginal groups and lowland Pingpu Aboriginals did not practise footbinding, but due to increased interaction with Han Chinese over the centuries, some of the groups took up the practice.
The practice resulted in what was known by the Chinese as the "three-inch golden lotus" (三寸金蓮). The Chinese inch (寸) is a little longer than 3cm so the preferred foot length was less than 10cm.
Ko said the woven and embroidered shoes used to bind feet were not as refined in Taiwan as those made in China because of the custom's short history in the nation.
"However, there are localized differences and we do have specialty styles that are distinct from Chinese styles," he added.
Most of the tiny shoes used to bind feet in Taiwan were various shades of red to express family bliss and vitality, Ko said.
The early migrants from the Zhangzhou and Chuanzhou regions of Fujian Province incorporated the wooden high-heel slippers from their cultures, which enclosed the bound feet and gave them a slender look, Ko said.
Ko, who has a collection of more than 6,000 pairs of the shoes, said he began to study foot-binding customs when he was about 10 and said that "it led to an interest in physiology and formed his thinking to become a medical doctor."
Sansia District Administrator Yang Chih-hung (楊志宏) said his great-grandmother had bound feet.
"Through systematic collection, compilation and planning, the public will have a deeper understanding about this old custom," Yang said of the exhibit.
Comments will be moderated. Keep comments relevant to the article. Remarks containing abusive and obscene language, personal attacks of any kind or promotion will be removed and the user banned. Final decision will be at the discretion of the Taipei Times.