DPP riven by factionalism as primary polls heat up
BACKLASH: Annette Lu said the primaries have become a proxy for competition between party heavyweights and could cost the party dearly during the elections
Divisions within the Democratic Progressive Party (DPP) have come to the fore again, as the party prepares for the seven-in-one elections next year, with former vice president Annette Lu (呂秀蓮) warning that it could turn away public support.
Lu, who is hoping to represent the DPP in the race for Taipei mayor next year, said the Taipei primary has become a "proxy war" between party heavyweights and could result in a public backlash.
Lu did not name names, but DPP Chairman Su Tseng-chang (蘇貞昌) is widely believed to favor lawyer Wellington Koo (顧立雄), while former DPP chairperson Tsai Ing-wen (蔡英文) reportedly supports National Taiwan University Hospital physician Ko Wen-je (柯文哲), an independent who currently has the highest support rate among all pan-green aspirants.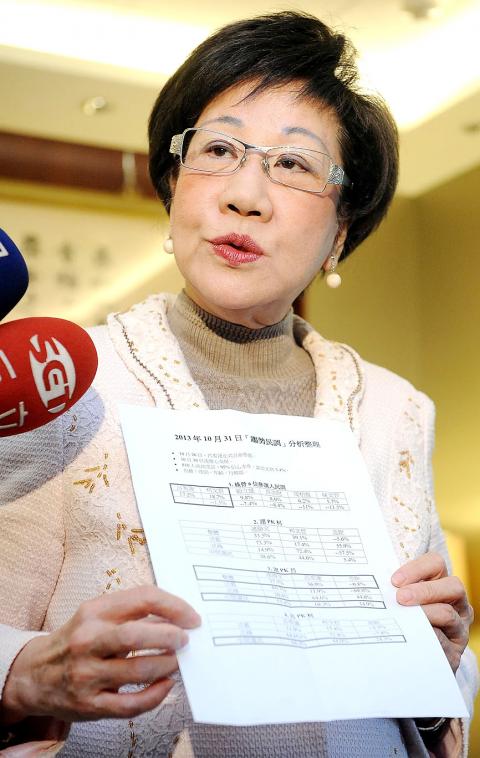 Former vice president Annette Lu shows reporters in Taipei yesterday opinion poll results favorable to herself, while criticizing the way the Democratic Progressive Party's selection of a candidate for next year's Taipei mayoral election is being handled.
Photo: Chu Pei-hsiung, Taipei Times
The Taipei primary has become a proxy for a private competition between Su and Tsai for the DPP chairmanship election next year, Lu said.
This maneuvering for personal gain could cost the party dearly, such as the DPP losing in all constituencies in northern and central Taiwan except Yilan County next year, she said.
Lu, who has repeatedly complained of a lack of media coverage of her campaign and the media's focus on her age, urged DPP headquarters to remain neutral in the primaries.
Meanwhile, the emergence of the New Tide, arguably the most powerful DPP faction, has caught the public's attention and raised tensions in the party after the group secured a series of primary victories.
Three nominees — Pan Men-an (潘孟安) of Pingtung County, Wei Ming-ku (魏明谷) of Changhua County and Lee Wen-chung (李文忠) of Nantou County — are New Tide members, while Lee Ching-yung (李進勇) won the Yunlin County primary with the backing of the New Tide.
In Greater Taichung, Tsai Chi-chang (蔡其昌), another New Tide member, is trying to narrow the gap with Lin Chia-lung (林佳龍) before the primary on Dec. 20. In Taipei, the group appears to have thrown its support behind Koo, with many city councilors who are members of the group endorsing the lawyer.
A DPP resolution in 2006 dissolved all party factions, prohibiting them from establishing offices, recruiting members and fundraising. However, the factions did not really disappear, as many continue to operate in the form of think tanks or foundations led by a senior party member.
The New Tide's string of primary wins and heavy campaigning to assist them by Greater Tainan Mayor William Lai (賴清德) and Greater Kaohsiung Mayor Chen Chu (陳菊), both New Tide members, could escalate tensions within the party, former DPP legislator Julian Kuo (郭正亮) said yesterday.
Incumbent mayors and commissioners are advised to stay neutral in the primaries to prevent factional tensions, Kuo said.
Former premier Yu Shyi-kun's victory in the New Taipei City primary, which drew protests of unfairness from New Taipei City (新北市) Chapter director Lo Chih-cheng (羅致政), who is close to Tsai Ing-wen, has also been described as a trade-off between Yu and Su in exchange for support of Su's re-election campaign for the chairperson's post next year. Yu and Su have denied the rumor.
Comments will be moderated. Keep comments relevant to the article. Remarks containing abusive and obscene language, personal attacks of any kind or promotion will be removed and the user banned. Final decision will be at the discretion of the Taipei Times.