Renegotiate service trade pact: groups
RECIPROCITY? The pact will require Taiwan to open almost all its industries to Chinese investment, but China is not offering the same back, protesters said
Representatives from civic groups, the manufacturing and retail industries and the Taiwan Solidarity Union (TSU) yesterday voiced their strong opposition to a proposed cross-strait service trade agreement on the sidelines of a public hearing at the legislature on the agreement's impact on local businesses.
The legislature yesterday held the 12th of 16 public hearings on the service trade pact's potential impact on the retail and wholesale sectors mandated by a legislative resolution.
Representatives from the manufacturing and retail industry staged a protest in front of the Legislative Yuan building, demanding that the sectors be excluded from the agreement because the market opening could jeopardize local businesses and job opportunities.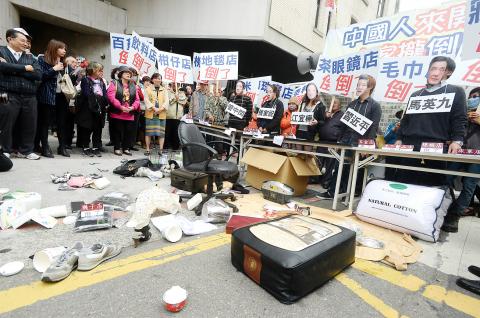 Representatives of civic groups, the manufacturing and retail industries and the Taiwan Solidarity Union yesterday protest the proposed cross-strait service trade agreement outside the Legislative Yuan in Taipei.
Photo: Wang Yi-sung, Taipei Times
"We're talking about the livelihoods of more than 3 million vendors, shops and small manufacturers, as well as more than 10 million employees in the industry. It would be difficult for us to compete with state-backed Chinese investors and businesses," said Huang Kuang-yi (黃光藝), spokesperson of an alliance of local retailers and manufacturers.
The Democratic Front Against Cross-Strait Trade in Services Agreement organized a press conference outside the Legislative Yuan's conference room, where the hearing took place, calling for a renegotiation of the agreement and more public hearings in light of new findings about the agreement.
Information from different government agencies on which sectors will be liberalized appears to be inconsistent, raising concern over possible flaws in the bilateral negotiation process, alliance spokesperson Lai Chung-chiang (賴中強) said.
For example, Taiwan is expected to liberalize commissioner agents' services and protect franchising services under the category of distribution services, as regulated by the UN Provisional Central Product Classification (聯合國中央產品分類暫行版), according to the specific commitments listed in the agreement, he said.
However, information provided by the Ministry of Economic Affairs states that Taiwan would protect commissioner agents' services and liberalize franchising services, he said.
"With flaws like these, we should renegotiate the agreement," Lai said.
At a press conference held simultaneously with the hearing, TSU Legislator Hsu Chung-hsin (許忠信) said that the agreement was not reciprocal, as Taiwan will have to liberalize almost its entire retail and wholesale sectors to Chinese investment, but Beijing will not offer the same treatment to Taiwanese investors and businesses.
"China will only liberalize part of its cross-border services and commercial presence to Taiwan," Hsu said.
Reciprocity is crucial for Taiwan's retail and wholesale sector, which accounted for 28.6 percent of the nation's GDP last year, he said.
Comments will be moderated. Keep comments relevant to the article. Remarks containing abusive and obscene language, personal attacks of any kind or promotion will be removed and the user banned. Final decision will be at the discretion of the Taipei Times.