Mom shocked by in-law's alleged tie to baby's death
UNHAPPY FAMILIES? Prosecutors cited Tsou Ya-ting as saying that she had long held a grudge because her in-laws had favored the dead child and her mother
The mother of a three-month-old girl who died after drinking salt-tainted milk formula yesterday expressed shock over her sister-in-law's alleged involvement in the child's death and dismissed allegations of a family cover-up.
The infant, known as Hsiang Hsiang (緗緗), died earlier this month due to hypernatremia — an electrolyte disturbance that is defined by an elevated sodium level in the blood — and acute kidney failure.
Her parents originally pointed the finger at milk formula producer Nobel Baby.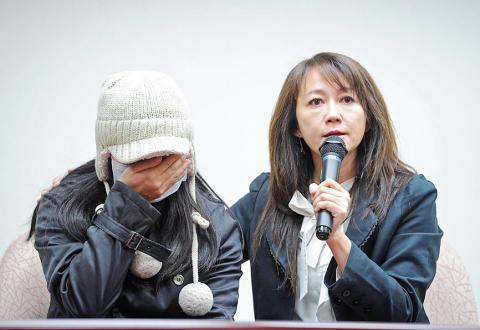 Democratic Progressive Party Taipei City Councilor Chien Yu-yen, right, speaks at a press conference yesterday in Taipei with the mother of Hsiang Hsiang, who died after being fed salt-tainted baby milk powder.
Photo: CNA
The Taipei District Prosecutors' Office sent samples of the milk formula to the city's Department of Health for inspection, which found that sodium levels in milk formula products from the company did not exceed standards.
The focus of the investigation later turned to the baby's family and on Wednesday it was announced that the infant's aunt, Tsou Ya-ting (鄒雅婷) had admitted putting salt in the baby's milk formula since September.
She reportedly told investigators during questioning that she wanted to make the baby sick because of a feud with the girl's mother, but did not intend to kill her.
Tsou was detained on Wednesday night. Prosecutors are also investigating whether some family members may have covered up for Tsou.
Accompanied by Democratic Progressive Party (DPP) Taipei City Councilor Chien Yu-yen (簡余晏) at a press conference yesterday at Taipei City Council, the infant's mother, who has not been named, said she and her husband learned about Tsou's confession on the news.
She said there had been no attempt by the family to cover up the crime by blaming the baby's death on the milk formula company.
"We were a happy family, and everyone took very good care of me after Hsiang Hsiang was born. I never thought the person who did this to my baby would be my sister-in-law," she said.
Prosecutors cited Tsou as saying that she held a long-standing grudge because her in-laws favored Hsiang Hsiang and her mother. Tsou also accused the new mother of scolding her two sons.
The infant's mother said she had refused to let Tsou's sons enter her daughter's room because the baby was sick, but denied any serious dispute with Tsou over family matters.
"I will choose to forgive her, and she will always be my sister-in-law. I will take care of her children," she said.
Chien apologized to the milk formula company over the false accusation, and urged the media to give the family time and space to grieve and heal relations.
Comments will be moderated. Keep comments relevant to the article. Remarks containing abusive and obscene language, personal attacks of any kind or promotion will be removed and the user banned. Final decision will be at the discretion of the Taipei Times.