Sean Lien tight-lipped about mayoralty
DECISIONS, DECISIONS: Lien said he needs to do some serious thinking about running in Taipei, because if he only had to think of himself, he would not stand
Former Taipei EasyCard Corp chairman Sean Lien (連勝文) yesterday remained tight-lipped about his bid for the Taipei mayoral election, while a new poll showed that National Taiwan University's Department of Traumatology director Ko Wen-je (柯文哲) would obtain more support than Lien if he joined the race.
The poll, conducted by Trend Survey & Research Co on Oct. 31, showed that 39.1 percent of respondents said they would support the independent Ko in the Taipei mayoral election if he were a candidate, while support for Lien, as the KMT representative, would be 33.5 percent.
Lien, son of former Chinese Nationalist Party (KMT) chairman Lien Chan (連戰), has been the most popular contender in the pan-blue camp to represent the KMT in the race. He declined to confirm his bid yesterday and said there are issues to consider before making his decision.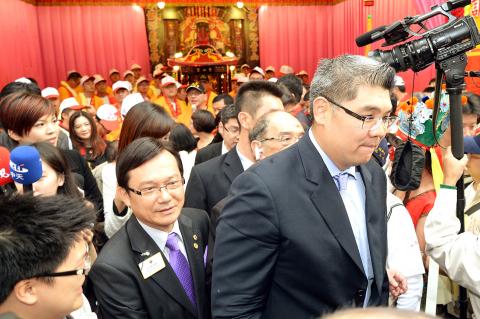 Former Taipei EasyCard Corp chairman Sean Lien, front right, is escorted out of an event at a temple in Taipei yesterday. Although Lien smiled and shook hands with people as he was leaving, he remained silent when asked whether he would run for Taipei mayor.
Photo: CNA
"If I were to think of my own interests, I would stay away from [the election]. Anyone who wants to live happily should not participate in politics. However, if I want to make a contribution to society, I need to consider carefully if I can contribute to society and how I can do so," he said yesterday after delivering a speech at Shih Hsin University.
Lien has reportedly been unable to make up his mind due to health reasons and a shooting incident in 2010, in which he was shot in the cheek during election campaign activities in New Taipei City (新北市).
He has said that his family opposes his involvement in politics following the incident and acknowledged that his personal safety is his main concern.
Lien shrugged off the poll result and dismissed rumors that he would be Legislative Speaker Wang Jin-pyng's (王金平) running mate in the 2016 presidential election.
"This is an amusing question — [The rumor] was spread by an individual to a specific media outlet," he said.
In another poll conducted among hopefuls in the pan-green camp, Ko, an independent, won a support rating of 39.1 percent. Support for former vice president Annette Lu (呂秀蓮) was 17.2 percent and lawyer Wellington Koo (顧立雄) had 9.8 percent.
Lu yesterday dismissed the poll result and said she would strive for victory in the election.
Comments will be moderated. Keep comments relevant to the article. Remarks containing abusive and obscene language, personal attacks of any kind or promotion will be removed and the user banned. Final decision will be at the discretion of the Taipei Times.