Lo drops out of DPP New Taipei City mayor race
Lo Chih-cheng (羅致政) yesterday announced his withdrawal from the Democratic Progressive Party's (DPP) New Taipei City (新北市) mayoral primary, saying he did not have enough time to prepare for the campaign.
Lo's withdrawal left the primary with two aspirants, former premier Yu Shyi-kun (游錫堃) and former DPP legislator Chuang Shuo-han (莊碩漢), with Yu regarded as the odds-on favorite.
Accompanied by former DPP chairperson Tsai Ing-wen (蔡英文), Lo officially announced his decision to drop out of the race yesterday morning after a visit to Tsai's office.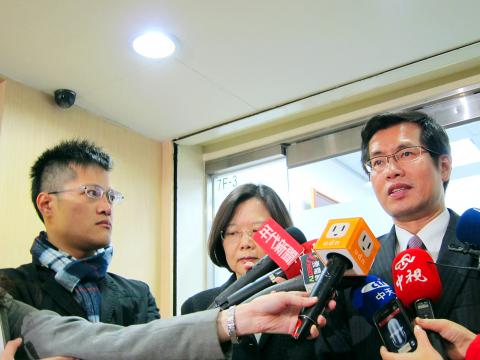 Lo Chih-cheng, right, director of the Democratic Progressive Party's New Taipei City chapter, yesterday announces his withdrawal from the party's primary for next year's New Taipei City mayoral election.
Photo: CNA
"As party headquarters' strategic considerations and scheduling decision have left me with little time to prepare for my campaign, I hereby announce my decision to withdraw from the primary. Hopefully, my withdrawal will help the party win the election," said Lo, director of the DPP's New Taipei City chapter.
Tsai said she respected Lo's decision and praised him for making his best effort for the campaign.
There have been reports that DPP Chairman Su Tseng-chang (蘇貞昌) favored Yu's nomination in the primary in exchange for Yu's support in the DPP chairmanship election next year.
During negotiations conducted by a task force designated by DPP headquarters on Thursday, the three aspirants agreed that a public opinion poll would be held on Dec. 2 to determine the winner of the winner, although Lo and Chuang had hoped that the survey would be conducted at a later date.
Responding to reporters' questions, DPP Secretary-General Lin Hsi-yao (林錫耀) reiterated that all three aspirants agreed on the survey date, adding that based on the party's primary regulations, a poll must be held within one month after party negotiations, unless aspirants agree on a later date.
In related news, the DPP announced that former legislator Lee Wen-chung (李文忠) had defeated former legislator Tang Huo-sheng (湯火聖) in a public opinion poll in Nantou County, making him the party's representative in the Nantou commissioner election next year.
Lee won the poll by a "considerable margin," Lin said, but "in respect of Lee and Tang's agreement, we will not disclose the survey's exact figures."
The DPP is expected to finalize its first group of candidates for the mayoral and commissioner elections next year after its Central Executive Committee meeting today and officially announce seven nominees.
Three of the seven nominees would be candidates who won party primaries in the past month, including Nantou County's Lee Wen-chung, Pan Men-an (潘孟安) of Pingtung County and Lee Chin-yung (李進勇) of Yunlin County.
The other four are all incumbent mayors and commissioners, including Greater Kaohsiung Mayor Chen Chu (陳菊), Greater Tainan Mayor William Lai (賴清德), Chiayi County Commissioner Helen Chang (張花冠) and Yilan County Commissioner Lin Tsung-hsien (林聰賢).
The DPP's primary regulations stipulate that all incumbent mayors and commissioners who seek re-election would automatically qualify as the party's candidates in the local elections.
Comments will be moderated. Keep comments relevant to the article. Remarks containing abusive and obscene language, personal attacks of any kind or promotion will be removed and the user banned. Final decision will be at the discretion of the Taipei Times.