Police link party to organized crime
DODGY DEALINGS: New Taipei City's police department said that a local Bamboo Union gang branch was using the China Unification Promotion Party as a cover
Members and former members of the China Unification Promotion Party have been arrested over the past two years for direct involvement in organized crime-related incidents, showing that it may still have strong ties with local organized crime groups, police said.
Founded in 2005 by former leading Bamboo Union member Chang An-le (張安樂), commonly known as "White Wolf" (白狼), the party's main objective is unification with China.
Chang, who had been on the run in China for more than 17 years, returned to Taiwan in June.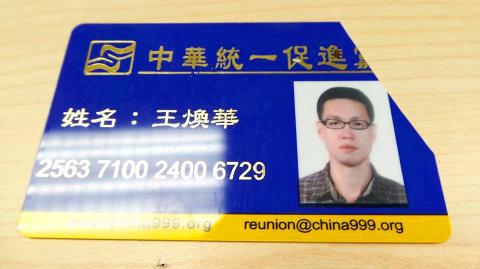 Wang Huan-hua's China Unification Promotion Party membership card, with the corner snipped, is seen in a screengrab from Facebook on Wednesday.
Photo: Facebook
Though it boasts a total membership of close to 20,000, it is not one of the more active political parties. Each party branch is named after a Chinese person of note from antiquity, such as Zilu (子路), one of Confucius' 72 most renowned disciples, and Yeh Shih (葉適), an official in the Southern Song Dynasty from Wenzhou in Zhejiang Province.
Taoyuan County police department's criminal investigation division raided the party's Yeh Shih party headquarters branch early on Wednesday and arrested Wang Huan-hua (王煥華) and four other party members.
The division said that Wang claimed to be the chief of the Yeh Shih branch office, which was located at a local car-washing lot, adding that while he seemed to just be a businessman on the surface, he had used Chang's support to secure his "turf," obtain illegal guns and used them to "settle" disputes, and engaged in racketeering across Taipei, Taoyuan and Greater Taichung.
Wang, who had also been on a government list of gang figures to be cracked down on, had met Chang in China in 2010, the division said, adding that Chang had tasked Wang to become the head of the Yeh Shih branch after learning that Wang's family originated in Wenzhou.
The division also said that Wang had ordered two gang members to rob an art collector surnamed Tseng (曾) in Taipei City after learning that Tseng had various valuable paintings in his house.
The gang members had not succeeded in the attempt, but the Vietnamese girlfriend of Tseng's son had been pushed from the fourth floor of the building as she was in the process of calling the police during the robbery, the division said.
The police said Wang had also hosted a drug party in June and raped a woman who went by the pseudonym "shuiling" (水靈) who worked at a bar and had also severely beaten her in the bar where she worked, as well as uploading audio files of the rape.
Wang was arrested on Wednesday and sent to Taoyuan District Prosecutor's Office on charges of organized crime, extortion, obstruction of liberty, obstruction of sexual autonomy and illegal ownership of guns and drugs.
Meanwhile, the China Unification Promotion Party said on Wednesday night that Wang had applied to leave the party in July, which had been approved following his breaking of party regulations.
The announcement, made on Facebook, included an image of Wang's party membership card with a corner cut off as a sign of its invalidation.
Hsinchu police said that during an anti-crime operation in February last year, one of the prime suspects, You Chia-how (游家豪) had been a deputy director of the China Unification Promotion Party's Zilu branch.
New Taipei City (新北市) police department said that during a raid on a local Bamboo Union branch they discovered that the union was using the party as a cover, and even handing out party membership cards to absorb students into the gang.
Additional reporting by Chiang Hsiang
Comments will be moderated. Keep comments relevant to the article. Remarks containing abusive and obscene language, personal attacks of any kind or promotion will be removed and the user banned. Final decision will be at the discretion of the Taipei Times.