Join recall petition instead of throwing shoes, Constitution 133 Alliance says
OPTION: Co-founder Neil Peng said that using the democratic mechanism of recalling incompetent lawmaker is a good way for people to voice their anger
A recall campaign would be a better option for people to vent their anger against the government than throwing shoes at the president, an award-winning author said yesterday, on the completion of the first stage of a campaign to recall Chinese Nationalist Party (KMT) Legislator Wu Yu-sheng (吳育昇).
"Throwing shoes is good, but recalling incompetent lawmakers, a mechanism in the democratic system, is a better way to express your anger toward the current administration," writer Neil Peng (馮光遠), co-founder of the Constitution 133 Alliance, said in front of the Legislative Yuan.
Established in August, the citizens' alliance cited Article 133 of the Constitution, which states that "a person elected may be recalled by his constituency," as the foundation of its effort to bring down incompetent lawmakers through a constitutional mechanism, with Wu, a confidant of President Ma Ying-jeou (馬英九), as the first target.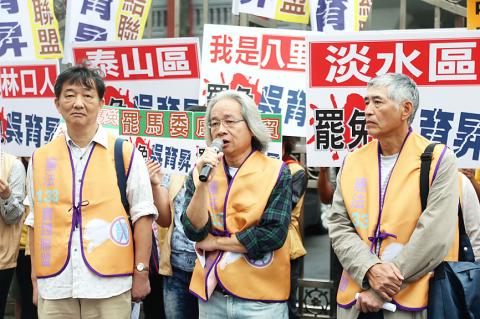 Constitution 133 Alliance co-founder Neil Peng, center, and fellow members stage a protest in front of the legislature in Taipei yesterday, calling on the public to participate in a recall campaign against Chinese Nationalist Party (KMT) Legislator Wu Yu-sheng.
Photo: CNA
The alliance yesterday submitted the more than 6,000 signatures it had collected in Wu's constituency, New Taipei City's (新北市) first district, to the Central Election Commission, meeting the minimum threshold required — 2 percent of the total electorate in the district — to complete the first phase of a recall petition.
The alliance aims to meet its next target of garnering support from no less than 13 percent of the electorate — about 290,000 in the district — within the next month before the proposal can be put to a referendum in the constituency.
A rally has been scheduled on Nov. 16 to generate public awareness of the campaign and the petition drive, Peng said.
"This campaign would be a test of solidarity of the Taiwanese public," said film director Ko I-chen (柯一正), one of the co-founders of the alliance.
The alliance listed nine reasons why they think Wu is incompetent — including his endorsement of Ma's policies on US beef imports, the electricity and fuel price increases and continued construction of the Fourth Nuclear Power Plant in Gongliao (貢寮), New Taipei City, among others.
Comments will be moderated. Keep comments relevant to the article. Remarks containing abusive and obscene language, personal attacks of any kind or promotion will be removed and the user banned. Final decision will be at the discretion of the Taipei Times.