Labor activists are jailed for protests, pledge to fight on
'HONORED': The two rights group leaders were jailed over protests for laid-off workers forced to repay loans given them in lieu of pensions, but were unbowed
Escorted by hundreds of supporters, labor rights activists Mao Chen-fei (毛振飛) and Lin Tzu-wen (林子文) walked to the Taipei District Prosecutors' Office yesterday to begin their prison terms, with both saying they feel honored to be imprisoned over demonstrating for labor rights.
The supporters held up banners and flags as they departed from Ketagalan Boulevard in front of the Presidential Office, heading over to an annex office of the Taipei District Prosecutors' Office about 1km away.
Their departure was accompanied by firecrackers and fireworks as the crowd chanted: "Honored to go to jail, no regret at all."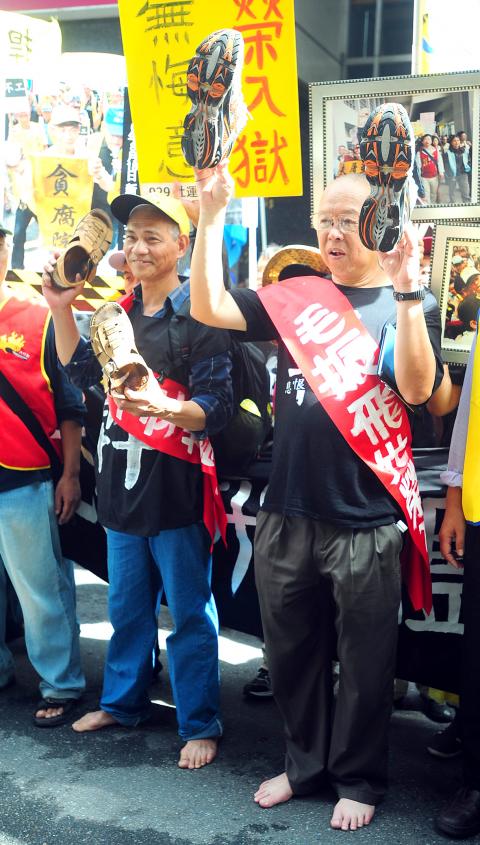 Labor rights activists Mao Chen-fei, right, and Lin Tzu-wen hold shoes during a protest outside the Taipei District Prosecutors' Office yesterday.
Photo: Wang Yi-sung, Taipei Times
"I feel honored to go to jail for speaking out against injustice in this society," Lin, a long-time labor activist, told the crowd before the parade started. "We didn't commit any crime, we're just being repressed by the state."
Mao, chairman of the Taoyuan Confederation of Trade Unions (TCTU), said that while he also feels honored to be jailed, he does regret one thing.
"I regret that I've only got 20 days, while Lin's got 50 days. Whenever I think about it, I feel ashamed for getting such a short jail term," Mao said. "Going to prison is nothing to be afraid of, and if we fear nothing, the government will be afraid of us. This is why President Ma Ying-jeou [馬英九] is now hiding from us."
Lin was sentenced to 50 days in prison for engaging in clashes with police during a protest the National Alliance for Workers of Closed Factories (NAWCF) staged on Ketagalan Boulevard, while Mao was sentenced to 20 days in prison over an egg-hurling protest the NAWCF also staged in front of the Presidential Office last year.
At the protest, when police asked the crowd to stop hurling eggs at them, Mao told the crowd to continue and said he would take full responsibility.
The NAWCF is made up of hundreds of workers in their 60s or 70s who were laid off nearly 20 years ago. When their former employers would not pay them the severance packages and pensions they were owed, the Council of Labor Affairs offered them loans and promised that it would ask their former employers to repay the loans, rather than making the workers repay them.
However, two years ago, the council filed a NT$20 million (US$680,000) lawsuit against the laid-off workers, urging them to repay their loans, triggering waves of protests by the workers and their supporters.
"When I get out of the jail, I will return to the streets, because I cannot sit and do nothing when I see a small group of people benefiting at the expense of the public and workers," Mao said.
Yao Kuang-chu (姚光祖), a younger member of the TCTU, vowed to carry on the job while the two leaders are in jail.
"These people are too old to go to jail. Shouldn't it be time for us, the younger generation, to go to jail?" Yao asked, and received a firm "yes" from the crowd. "We are ready to make the government pay more for what they did wrong."
Firecrackers and fireworks were again let off after the parade arrived outside the Taipei District Prosecutors' Office, but many people were in tears when Mao and Lin walked into the office.
Chen Hsiu-lien (陳秀蓮), a spokeswoman for the NAWCF, urged the crowd to take part in another protest outside the upcoming Chinese Nationalist Party (KMT) National Congress in Greater Taichung on Nov. 10.
Comments will be moderated. Keep comments relevant to the article. Remarks containing abusive and obscene language, personal attacks of any kind or promotion will be removed and the user banned. Final decision will be at the discretion of the Taipei Times.