Ma vows tougher food inspections
BAD TASTE: The president defended government efforts by saying that food-safety issues have been a long-term problem and that addressing them would take time
President Ma Ying-jeou (馬英九) yesterday pledged to strengthen inspections on food and beverage manufacturers and severely punish those with problematic products amid a scare over adulturated cooking oils.
Presiding over the Chinese Nationalist Party's (KMT) Central Standing Committee, Ma, who doubles as the party chairman, instructed the Ministry of Health and Welfare to hold a national food safety conference next month to address the issue.
"Food safety is a long-term issue, and the government will catch the bad manufacturers one by one and ensure food safety in Taiwan," he said following the ministry's report on the latest food safety scandal in which a major cooking oil company was found adulturating and mislabeling its oils.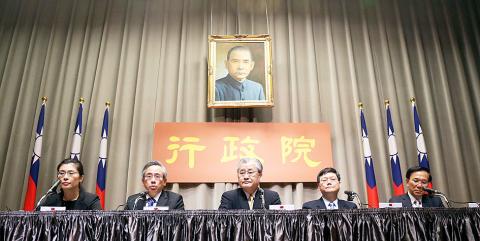 Minister of Health and Welfare Chiu Wen-ta, second left, Vice Premier Mao Chi-kuo, center, Deputy Minister of Economic Affairs Woody Duh, second right, and other government officials attend a press conference in Taipei yesterday, pledging to strengthen food safety inspections.
Photo: CNA
As of Tuesday, the Chang Chi Foodstuff Factory Co had been fined NT$28.6 million (US$972,700) earlier this month, in accordance with the Act Governing Food Sanitation (食品衛生管理法), after authorities found that its products had been adulterated.
Suspicious consumers had questioned the quality of the firm's cooking oil and tips from whistle-blowers in the company helped break the story.
Ma defended the government's efforts to address food safety issues that have emerged in recent years, from plasticizers and toxic starch to the problematic cooking oils, and promised to increase manpower and budgets to enhance food safety.
"The problems have been there for a while, but they began to emerge only in recent years… It gives us a chance to examine the long-existing issues and resolve them," he said.
Separately yesterday, Minister of Health and Welfare Chiu Wen-ta (邱文達), in response to repeated media enquiries on whether he would take political responsibility for alleged negligence in the food inspection process, said he "takes full responsibility for cracking down on 'black-hearted' food suppliers."
"No matter when [the incidents] happened, [even] if it was my predecessor in the office, I will take full responsibility," he said.
Meanwhile, Vice Minister of Economic Affairs Woody Duh (杜紫軍) said he disagreed with lawmakers who called for the Good Manufacturing Practice (GMP) certification — the government-backed label — be abolished on ground that the Chang Chi incident has proved the accreditation systems had been discredited.
Chang Chi was able to receive 17 GMP certifications for its edible oil products because it provided the Industrial Development Bureau with "misinformation about its manufacturing processes" to obtain the certificates, Duh said.
To address the loophole and others, the bureau is reviewing the GMP system and might require a manufacturer to present its import-export invoices and declarations and to allow on-the-spot inspection of its production lines when it seeks certification, Duh said.
The ministry will ensure that GMP is a guarantee for safety, Duh said, adding that "without the GMP system, consumers would be more exposed to unsafe foods."
Duh said the ministry would complete ingredient testing of all 20 edible oil products advertised as 100 percent natural and unadulterated in two days and of all 129 blended cooking oil products within one week to ensure that products on the market are safe.
People who have information about suspicious food products can (02) 2325-0955, Duh said.
Comments will be moderated. Keep comments relevant to the article. Remarks containing abusive and obscene language, personal attacks of any kind or promotion will be removed and the user banned. Final decision will be at the discretion of the Taipei Times.