Japanese singer thanks Taiwan for tsunami disaster aid
Japanese singer Mikako Aoki has come to Taiwan to perform a new song, Thanks to Taiwan, to express Japan's gratitude for Taiwan's disaster relief assistance in the wake of the March 11, 2011 magnitude 9 earthquake and the ensuing tsunami.
This is Aoki's first visit and she said she made the trip because she wanted to thank Taiwan by singing the song in Mandarin.
Although she does not speak much Mandarin, she was spent two months practicing the song.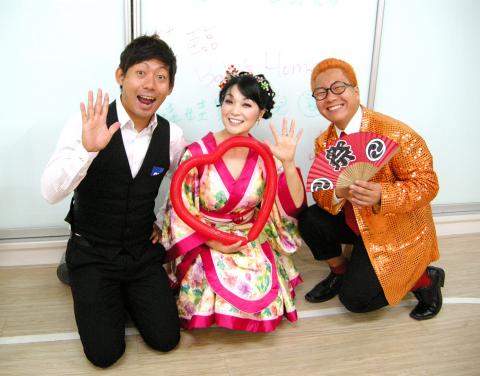 Japanese singer Mikako Aoki, center, smiles alongside Japanese comedians Ryosuke Harada, left, and Kei Minatogawa in Taipei on Sunday.
Photo: CNA
After the March 11 disaster, Taiwan donated about US$260 million in aid to Japan, the most by any country.
To express her gratitude for this support, Aoki, who is from Osaka, decided to stage performances in Taiwan, including one on Saturday last week at the Taipei International Travel Fair.
Taiwanese lyricist
The song was composed by a Japanese musician and its lyrics were written by a Taiwanese expatriate who has lived in Japan for more than 30 years.
In the song, which will be
included in her new album to be released next month, Aoki sings: "Thank you. Thank you, Taiwan."
She says that Taiwan's helping hand has warmed Japanese hearts on cold, dark nights.
The singer said she felt the warmth of the Taiwanese during her short stay in the country.
Aoki added that she will share her experience with the Japanese public during her weekly radio programs.
In addition to Aoki, two other performers from Osaka, comedians Ryosuke Harada and Kei Minatogawa, also came to Taipei to show their gratitude for the post-disaster assistance.
During a show in Taipei on Sunday, Harada and Minatogawa performed a series of comic sketches.
Taiwanese warmth
"Making Taiwanese laugh is our way of offering something in return for Taiwan's help," Harada said.
"We will bring back the warmth we have felt from Taiwanese and share it with Japanese," he added.
Comments will be moderated. Keep comments relevant to the article. Remarks containing abusive and obscene language, personal attacks of any kind or promotion will be removed and the user banned. Final decision will be at the discretion of the Taipei Times.