Aggressive sex workers ruining Wanhua, locals say
Business owners and residents in Taipei's Wanhua District (萬華) are calling for beefed-up police patrols to rein in what they say is a social blight spreading in their area: prostitutes hustling aggressively in the streets.
Locals say that the prostitutes are becoming more audacious in their pursuit of clients, grabbing male pedestrians to pull them into brothels, all the while offering discounted services.
This sales method is known as la ke (拉客), which literally means "pulling the customer."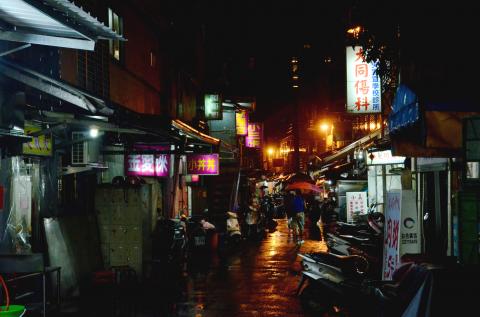 People walk in the rain down Guangzhou St in Taipei's Wanhua District on Saturday.
Photo: Chiang Hsiang, Taipei Times
"Sex workers are employing la ke to solicit customers every day. It is giving the area's night markets and tourism sector a bad name," Taipei City Councilor Yan Sheng-guan (顏聖冠) said.
Yan demanded that Taipei Mayor Hau Lung-bin (郝龍斌) deal with the situation, saying that "when tourists experience or witness aggressive hustling by sex workers, it is detrimental to Taipei's international image."
Pan Ping-jung (潘炳榮), secretary-general of a business association of lounges and bars in Wanhua, said the hustling had become so bad recently that even his son, a high-school student, had been targeted.
The area, known to many Taiwanese as "Monga" or "Bangka" (艋舺), was once one of the most prosperous parts of Taipei. Now, it is run down and some say it is in need of major urban renewal.
The government has effusively promoted Wanhua to tourists, as the district contains well-known attractions such as the Lungshan Temple (龍山寺), the Ximending (西門町) shopping area and the Huasi Street Night Market (華西街), which has undergone a makeover to shed its former reputation as the notorious "Snake Alley."
Due to the congregation of blue-collar, transient and migrant workers in the area, Wanhua has always had a thriving sex trade. Although the government-regulated red-light parlors were officially abolished in the 1990s, brothels are still operating illicitly.
The sex trade in the district is based mostly in unlicensed parlors and lounges serviced by hostesses. These venues are known as A-gong diam (阿公店) in Taiwanese (also known as Hoklo), which literally means "shops for grandfathers" because they are frequently visited by seniors.
"There are more than 200 A-gong diam businesses in this area. It is a part of the cultural nightlife of Wanhua," Pan said. "However, residents and merchants are reporting an increase in aggressive street hustling by sex workers, which is leading to payment disputes."
He said that the industry is now very different than it was in the past, as businesses hire younger women from China and Vietnam, many of whom enter Taiwan by arranged legal marriages or illegal means.
"Most of these younger foreign girls have lived in Taiwan for some time and are legal residents who hold ARCs," Pan said.
He added that the younger foreigners are replacing the older sex workers and often entice their compatriots and friends at home or in Taiwan to come work at A-gong-diam.
Yan said the police carry out regular spot-checks on street prostitutes and have taken in those accused of aggressive hustling to the police station for questioning.
"At first, the troublemaking street walkers toned down their attitude a bit, but soon after, they united into groups and became defiant. They started protesting the police checks, showing their identity cards and denouncing the officers for violating their personal freedoms. They became very bold and are now unafraid of police checks. This is having a very negative impact on Wanhua's night market business," Yan said.
"Most of the problems in the trade arise over payment disputes. Some customers allow themselves to be pulled into the brothel by ladies using la ke tactics and promising low prices," Pan said. "However, once the customers are inside, they get sweet-talked to hire 10 or more bar hostesses for drinking and entertainment. The fees often end up being more than the customer can pay. This leads to disputes or even fights, which sometimes spill out onto the streets."
There have also been several incidents in which prostitutes have pulled elderly men into dark alleys and robbed them.
"Compared with the contemptible actions of some of these newer girls, the older set of sex workers who stood in a fixed spot waiting for customers to approach them tended to be more honest and discreet," Pan said.
Local business associations have started self-regulating to stop la ke practices and pledged that their employees will not harass pedestrians, but Pan said there are still a dozen "bad apples" who allow their hostesses to hustle aggressively or pull customers from the street.
"Our business association collaborated with police units to increase police presence on the streets last year, but the problem persists. Now, we think that strong enforcement efforts by the authorities are necessary, such as heavy fines for offending businesses. This is the only way to clamp down on the problem," he added.
An officer at the Wanhua District Police Station said that a specific patrol program to combat the la ke problem is already in place.
"Data from this year up to this month show that we have questioned 78 people in 19 neighborhoods. However, we still plan to enhance patrols to carry out major crackdowns in these areas," the officer said.
Comments will be moderated. Keep comments relevant to the article. Remarks containing abusive and obscene language, personal attacks of any kind or promotion will be removed and the user banned. Final decision will be at the discretion of the Taipei Times.