Bookstore owners criticize trade pact
FEELING SQUEEZED: Members of the stationery sector said they already face stiff competition and if Chinese investors join the market, they would have to close shop
The Chiayi County Books and Educational Tools Guild yesterday said it was unanimous in its opposition to the cross-strait service trade agreement, saying that if the agreement takes effect their industry would face immense pressure from Chinese competition.
According to data, the guild counted more than 200 members in its heyday more than a decade ago, but now comprises only 80 members with a total of 1,000 employees.
Guild director-general Lo Jen-tsai (羅仁材) said he worried the agreement would drive more traditional bookstores, which are already under pressure from chain bookstores, out of business.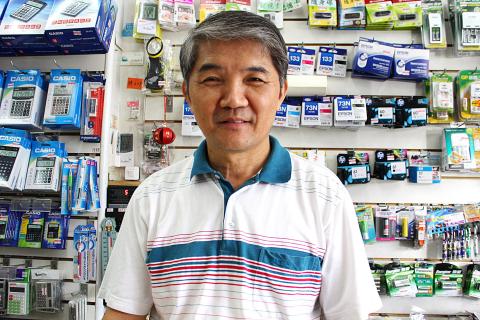 Chiayi County Books and Educational Tools Guild director Lo Jen-tsai poses in his shop on Saturday. Lo is concerned about the effects of the cross-strait service trade agreement on the bookstore business.
Photo: Lin Yi-chang, Taipei Times
Most traditional bookshop owners already watch their own stores instead of hiring security staff to cut back on their personnel expenditures, Lo said.
Competing against Chinese investors would be difficult for Taiwanese stores, especially as the Chinese have more resources and can easily obtain good store locations and handle complicated logistics, Lo said.
The possibility that Chinese investors may use their fat bank balances to steamroll smaller Taiwanese bookshops should not be excluded, Lo said, adding that should Chinese investors choose to invest in large chain bookstores, the monopoly the chain bookstores have on the sales of books and stationery would only solidify.
Pointing to how the many bookstores in Taipei's Chongqing S Road, known for its high concentration of bookshops in the past, closed shop or were changed into cafes, Lo said that Chiayi County could not be compared with Taipei in terms of culture and education saturation.
There is a limited market and with Chinese investors barging in for another slice of the pie, common bookstores would not last long, Lo said, adding that the closing down of bookshops would bring staff layoffs and a higher unemployment rate.
According to Chiayi City Books and Educational Tools Guild director-general Huang Chuan-feng (黃川峰), the stationery business was already very competitive and Chinese investments would worsen the situation.
"Consumer habits have also changed, and our competitors now include hypermarkets and other sources, featuring more choices in stationeries than bookshops can offer," Huang said.
Coupled with competitive pricing from those in the same business, there were many other factors which determined whether a customer actually walked into a store to make a purchase, Huang said.
"It is no longer the age where you sell it cheap and they will come," Huang said, adding that if Chinese investors were allowed to invest in Taiwan, "you can kiss the whole industry goodbye."
The guild's honorary director-general Tseng Chang-ting (曾長廷) also said that due to high wages, many manufacturers have shifted their plants to China for cheaper labor overheads before transporting their wares back to Taiwan for sale, adding that Chinese products were usually of low quality.
Giving examples, Tseng said that tape would not come off once you put it on and uniforms made in China also had a common problem of colors fading fast.
Huang, whose store sells blackboards and whiteboards, also said that Chinese products are inferior in quality.
Whiteboards are made to be durable, and Taiwanese whiteboards — made using techniques learned from Japan — were not only safe, but also capable of standing up to repeated use, Huang said, adding that whiteboards made in China were usually done for within a month.
The manager of one of the older bookshops in Chiayi City, the Hung Tu Bookstore, Kuo Hao-sheng (郭皓昇), said that more than 70 percent of all stationery items in the nation were manufactured in China and quality control was a constant problem.
Every shipment of stationery is double-checked and unqualified products are sent back, such as erasers made in colors that differ from the original or plastic stationery cases that smell bad, Kuo said.
Taiwanese stores try to ensure that students and parents enjoy quality purchases, but the price difference between Chinese and Taiwanese products — Taiwan-made plastic stationery cases may cost up to NT$59 per case, but Chinese products sell for NT$39, or even NT$29 per case — may be an indicator that Chinese-invested stores may not take such precautions, Kuo said.
Comments will be moderated. Keep comments relevant to the article. Remarks containing abusive and obscene language, personal attacks of any kind or promotion will be removed and the user banned. Final decision will be at the discretion of the Taipei Times.