Professor sues NSB, police over protests
IN THE SPOTLIGHT: As well as facing accusations of abuse of power, the nation's police force was criticized after an officer carried an assault rifle at a peaceful student protest
Taiwan Rural Front chairman Hsu Shih-jung (徐世榮) yesterday filed a lawsuit against the National Security Bureau (NSB) and the Datong District police for illegal arrests and the falsification of evidence during a July 23 protest in Taipei against forced evictions and demolitions in Miaoli County's Dapu Brough (大埔) last month.
Hsu, a professor of land economics at National Chengchi University, was dragged away by police officers during a protest against President Ma Ying-jeou (馬英九) and Premier Jiang Yi-huah (江宜樺) in front of the Ministry of Health and Welfare before being taken to a police station.
Police said they had arrested him for offenses against public safety and for obstructing official business, though he was released later in the evening due to "lack of evidence."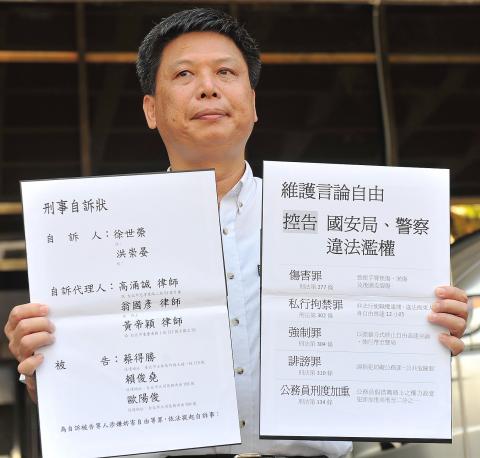 Taiwan Rural Front chairman Hsu Shih-jung holds up copies of a lawsuit filed in Taipei yesterday against the National Security Bureau and the Datong District police alleging illegal arrests and the falsification of evidence.
Photo: Chien Jung-fong, Taipei Times
In the days following the protest, Central Police University associate professor Yeh Yu-lan (葉毓蘭) said that Hsu had attempted to ram Ma's motorcade and that he had asked that officers take him to a police station, claims that Hsu has categorically denied.
Hsu maintains that the protest was peaceful and that all he did was to shout slogans at Ma's motorcade as it approached the ministry building.
Witnesses at the scene, including this correspondent, who was standing next to Hsu as he was taken away by police officers, support his version of events.
Video footage of the incident made available on the Internet also shows a plainclothes officer identifying and singling out Hsu, before ordering police officers to take him away.
Hsu, along with Hung Chung-yen (洪崇晏), a philosophy student at National Taiwan University who sustained injuries to his head during clashes with police, pressed charges against NSB Director Tsai Der-sheng (蔡得勝), Datong police investigation brigade officer Lai Jun-yao (賴俊堯) and Datong Branch station director Ou Yang-jun (歐陽俊) for illegal and arbitrary arrest, fabrication of charges, injury and defamation, among others.
At a press conference outside the Taipei District Court yesterday morning, Hsu said the abuses of power by the bureau and the police, including illegal arrests and cooked-up charges, had crossed a constitutionally drawn "red line" guaranteeing freedom of expression and the right of assembly.
Hundreds of lawyers have signed a petition supporting Hsu in the case and several have offered their services pro bono to assist him with the case.
In related developments, student groups that have joined a series of protests targeting officials in the Ma Cabinet were shocked on Thursday night when a police officer showed up armed with an assault rifle during a candlelit vigil near the home of Miaoli County Commissioner Liu Cheng-hung (劉政鴻).
Liu, who has faced severe criticism for his handling of the Dapu demolitions, told a forum last week that while it is the responsibility of public officials to be benevolent, they must also have the ability to adopt strongman tactics when acting in the public interest.
Asked for the reasons why a police officer was carrying an assault rifle at a peaceful protest by students, the Miaoli County police department said the decision had been made after "a careful assessment of the situation."
Comments will be moderated. Keep comments relevant to the article. Remarks containing abusive and obscene language, personal attacks of any kind or promotion will be removed and the user banned. Final decision will be at the discretion of the Taipei Times.