Renai Township trash collectors get a new tune
Over the years, it has become common consensus that hearing Tekla Badarzewska-Baranowska's A Maiden's Prayer means that it is time to dump the trash, but one may be confounded and still have trash in hand if they expect the same music in Nantou County's Renai Township (仁愛).
At the beginning of this month, the township changed the music for its six trash and recycled goods collectors to the song Born Different (長的不一樣) by the Aboriginal band Beiyuan Shanmao (北原山貓).
The light-hearted lyrics used by the band seek to present Aborigines as a unified group, despite their different languages, cultures and appearances. The song is very well known among the Aboriginal population.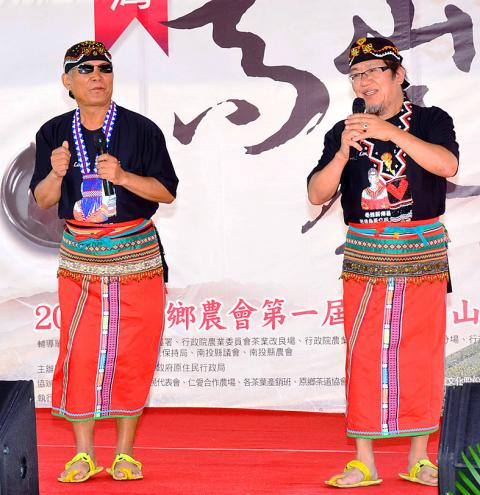 Beiyuan Shanmao performs Born Different at an awards ceremony in Nantou County's Renai Township in an undated photograph.
Photo: Tung Chen-kuo, Taipei Times.
Township major Chang Tzu-hsiao (張子孝) said that while other townships used A Maiden's Prayer or the Hoklo song Any Empty Bottles for Sale? (酒矸倘賣無) as the defining music for their trash and recycling trucks, "we have chosen a song that we felt exemplifies what it is to be Aboriginal."
In respect of the band's copyright, the township office sent the band a letter asking for the band's agreement to use the song in such a capacity, Chang said.
Comments will be moderated. Keep comments relevant to the article. Remarks containing abusive and obscene language, personal attacks of any kind or promotion will be removed and the user banned. Final decision will be at the discretion of the Taipei Times.