Ex-premier Hau calls for 'Chinese-style' democracy
Beijing must work with Taiwan toward "reunification" through a new mechanism of "Chinese-style" democracy that would limit the political arena to only a few political parties, former premier Hau Pei-tsun (郝柏村) has said.
Hau, who delivered a keynote speech at the City University of Hong Kong on Friday, said that only when China abandons the threat of force against Taiwan and the two sides embrace "Chinese-style" democracy will the "Chinese dream" be accomplished, the South China Morning Post reported on Sunday.
In recent years, Beijing has increasingly relied on forums in Hong Kong and China to further its "united front" work by inviting senior Chinese Nationalist Party (KMT) members, retired Taiwanese generals and even a select number of Democratic Progressive Party (DPP) members, such as former premier Frank Hsieh (謝長廷), to attend.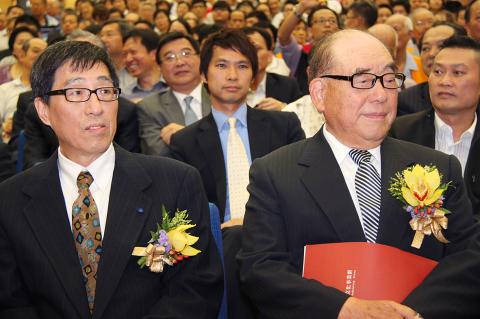 Former premier Hau Pei-tsun, right, sits next to City University of Hong Kong president Kuo Way before delivering a keynote speech at the university on Friday.
Photo: CNA
"The premise for democracy should be to stop the fighting between Chinese people [sic] and to end the era of political power that grows out of the barrel of a gun, which are key elements to realizing the 'China dream,'" the Post quoted Hau as saying.
The 94-year-old said that examples of peaceful liberalization and democratization in Taiwan following the death of president Chiang Kai-shek (蔣介石) in 1975 and during the Chiang Ching-kuo (蔣經國) and Lee Teng-hui (李登輝) presidencies could serve as a model for China.
"The future development of cross-strait relations should stick to 'no war, no [Taiwan] independence and gradual unification,'" Hau said.
Hau said that "Chinese-style" democracy would be an alternative to democracy as it is practiced in the West — and in Taiwan — where theoretically, if not in practice, there is no ceiling on the number of political parties.
"Taiwan started democratic reform to end one-party rule and lifted a press ban when the domestic economy was taking off in the 1980s," Hau said, repeating the disputed belief that as they become wealthier, Chinese are likely to desire a relaxing of the political system.
Under "Chinese-style" democracy, the number of political parties would be limited to just a few.
"Only major parties with at least 20 percent of public popularity would qualify to nominate candidates," Hau said, a proposal that, with Taiwan and China treated as a single polity, would almost certainly bring about the demise of both the DPP and the KMT, not to mention Taiwan's smaller parties.
There is no evidence at this point that the Chinese Communist Party, which under Chinese President Xi Jinping (習近平) has hardened its grip on Chinese society, would brook the presence of political competitors, especially parties with the ability to garner 20 percent of public support.
Hau caused a stir late last month when, addressing the "Witness Taiwan Democracy" forum organized by the Taiwan Foundation for Democracy, he denied that Taiwan was a sovereign nation and added that no democratic country — presumably a unified China — can accommodate two different democratic systems.
"When people on both sides of the Strait reach a consensus on their political system, unification will come to fruition naturally," he said at the time.
Comments will be moderated. Keep comments relevant to the article. Remarks containing abusive and obscene language, personal attacks of any kind or promotion will be removed and the user banned. Final decision will be at the discretion of the Taipei Times.