Hundreds revel in 'Friendly Taiwan' event in Taipei
Hundreds of Taiwanese and Filipinos yesterday enjoyed musical performances at the "Friendly Taiwan" event, which was initiated by several celebrities to demonstrate the nation's friendship and appreciation for Filipino workers.
With many Taiwanese expressing negative feelings toward the Philippines and Philippine nationals in Taiwan following the fatal shooting of Taiwanese fisherman Hung Shih-cheng (洪石城) by Philippine Coast Guard personnel earlier this month, several celebrities, including Cloud Gate Dance Theatre founder Lin Hwai-min (林懷民), Alliance Cultural Foundation chairman and renowned business leader Stanley Yen (嚴長壽), and writer Giddens Ko (柯景騰) — also known by his pseudonym Jiubadao (九把刀) — organized the event in Taipei yesterday, which featured a number of local musicians.
"The purpose of this event is simple: Let's render unto Caesar the things that are Caesar's," Yen said, while standing in front of a large banner that read "Thanks for your contributions."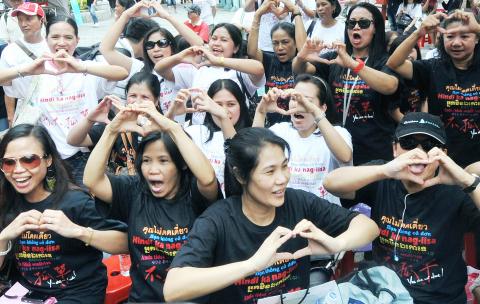 Foreign workers gesture and shout "I love Taiwan" at the 'Friendly Taiwan" event in Taipei yesterday.
Photo: Mandy Cheng, AFP
"Our friends from the Philippines have long helped us out in the family or in the workplace," he said.
"Taiwan is a diverse society and when Filipinos come to Taiwan to give us a hand, we also learn from them. When our young people go to work in China or in other countries, we would also want them to be safe and to be treated by the locals as their own people," he added.
Yang Chao (楊照), a writer, said that hateful words not only harm others, "they also harm our consciousness and our friendliness."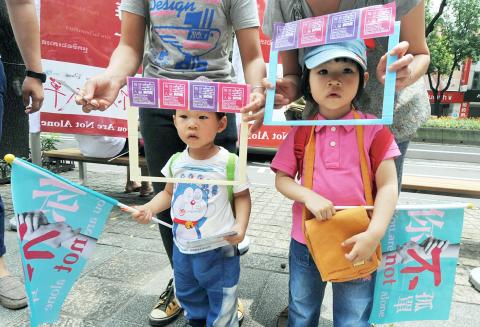 Two children pose for photographs at the "Friendly Taiwan" event in Taipei yesterday.
Photo: Mandy Cheng, AFP
Filipino worker Reina Nava, who took part in the event, said that she enjoyed it.
"I feel very well, it's so nice to see so many Taiwanese extending their friendliness to us," she said.
Lea Paray, another Filipino worker who has been working in Taiwan for 12 years, said that she enjoys working and staying in Taiwan.
"The pay is good, the people are nice and polite, I really like it," she said. "Although some problems happened, I never feel worried because everything has been fine as always."
Comments will be moderated. Keep comments relevant to the article. Remarks containing abusive and obscene language, personal attacks of any kind or promotion will be removed and the user banned. Final decision will be at the discretion of the Taipei Times.