Tainan is named best city in poll
GREEN SLANT: Areas headed by DPP politicians fared better than those run by the KMT, with five in the top eight, while Keelung finished last, in 22nd place, with 41.8 points
Greater Tainan was voted the best city in the nation for the second straight year in an annual survey released yesterday rating the Taiwanese sense of well-being, and the performance of local governments and leaders.
Greater Tainan Mayor William Lai (賴清德) once again had the highest approval rating among 22 mayors and county commissioners, the poll by Journalist magazine showed.
Tainan finished with 80.8 points out of a possible 100, enjoying a comfortable lead over runner-up Yilan County, which scored 75.5 points. Third-ranked Hualien County received 72 points, while Pingtung and Miaoli counties rounded out the top five with 70.6 points apiece.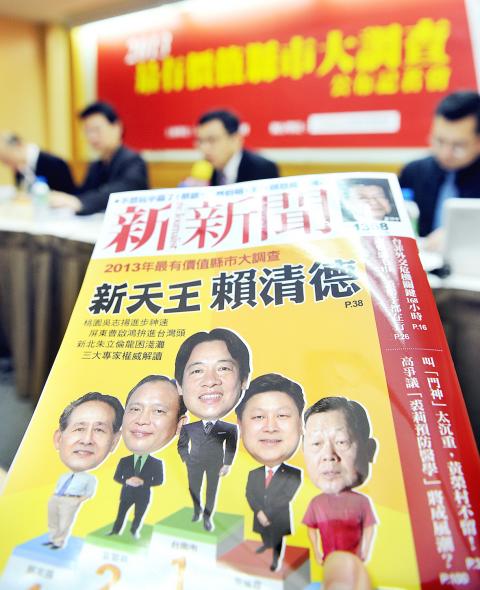 Greater Tainan Mayor William Lai, center, appears on the cover of the latest issue of Journalist magazine, which named his city the best in the nation for a second year.
Photo: Fang Pin-chao, Taipei Times
Evaluation of city policies and performance accounted for 55 percent of the total score, while the evaluation of the mayor or commissioner accounted for 30 percent. The remaining 15 percent was calculated through comparisons of the city or county leader's self-evaluation and a respondents' review, the magazines said.
Tainan finished first in four out the 10 categories — environmental protection; economy and job creation; culture and tourism; and anti-corruption efforts.
"Lai's outstanding work down in Tainan has made him a possible presidential candidate for the Democratic Progressive Party [DPP] in the future," former New Party lawmaker Jaw Shaw-kong (趙少康) told a press conference at which the survey results were released.
The DPP fared well, with five of the six DPP-governed cities or counties making the top eight — Tainan, Yilan, Pingtung, Greater Kaohsiung (sixth place) and Yunlin County (eighth place). Chiayi County ranked 13th.
The only Chinese Nationalist Party (KMT)-governed areas to crack the top eight were Miaoli County and Chiayi City. The last nine places were all KMT-governed areas, with New Taipei City in 15th, Greater Taichung in 17th and Taipei in 19th.
Keelung finished last with 41.8 points, almost 14 points behind its nearest rival, Nantou County.
However, KMT politicians are making progress — 11 of the 15 cities and counties it governs scored better this year than last year, while Taoyuan County's 10.4 point improvement won it the "most improvement" award.
Comments will be moderated. Keep comments relevant to the article. Remarks containing abusive and obscene language, personal attacks of any kind or promotion will be removed and the user banned. Final decision will be at the discretion of the Taipei Times.