Demonstrations continue at legislature
Following an anti-nuclear power parade by thousands of protesters on Sunday and a 24-hour hunger strike by four activists in front of the legislature in Taipei overnight, demonstrations continued last night against the proposal by Chinese Nationalist Party (KMT) lawmakers to hold a national referendum to decide the fate of the Fourth Nuclear Power Plant in New Taipei City's (新北市) Gongliao District (貢寮).
About 100 protesters, mainly middle-aged and elderly people, walked to the Legislative Yuan after Sunday's event ended on Ketagalan Boulevard at about 8pm.
The four activists who held the hunger strike were former Taiwan Environmental Protection Union (TEPU) chairperson — and the parade's commander-in-chief — Kao Cheng-yan (高成炎), 908 Taiwan Republic Campaign member Peter Wang (王獻極), National Taiwan University associate professor Chen Yung-chang (陳永昌) and former Environmental Protection Agency minister Chang Kuo-long (張國龍).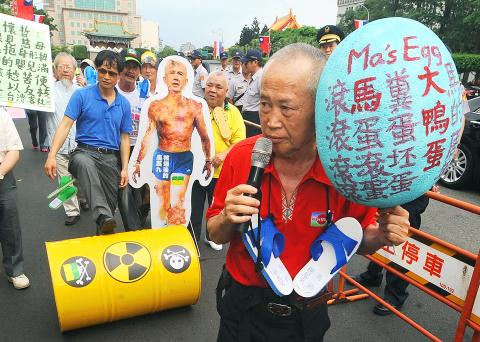 908 Taiwan Republic Campaign convener Peter Wang, holding microphone, leads demonstrators during an anti-nuclear protest in front of the Presidential Office in Taipei yesterday.
Photo: Liao Chen-hui, Taipei Times
TEPU deputy secretary-general Lee Hsiu-jung (李秀容) said they were protesting because legislators had approved the government-backed proposal to determine the fate of the plant by holding a national referendum, which is scheduled to be referred for a second reading as soon as Monday.
TEPU founding chairperson and veteran anti-nuclear activist Shih Hsin-min (施信民) said the group had held a hunger strike at the same location in 1992, when they protested plans to unfreeze the budget for the construction of the plant.
"Until this day, the victims who living near the Chernobyl nuclear disaster site still can not return to their homes. If a nuclear disaster happened in Taiwan, we would have to leave our homes forever, and the health of our generation and our children may also be affected," said Hsinchu Environmental Protection Association chairperson Chung Shu-chi (鍾淑姬), who also participated in the 1992 protest.
"We have no [US] green card. Where can we escape to?" she said.
"Taiwan is so small that people would have no where to go if a nuclear disaster did occur, and evacuation would also be a problem. Just look at the heavy traffic congestion on national holidays," she said.
The group said it plans to continue its protest for an indeterminate period, but at least until Sunday.
Comments will be moderated. Keep comments relevant to the article. Remarks containing abusive and obscene language, personal attacks of any kind or promotion will be removed and the user banned. Final decision will be at the discretion of the Taipei Times.