Taipei-Manila Row: Incident does not surprise a veteran captain once detained in Philippines
Watching TV news reports about the ongoing diplomatic row between Taiwan and the Philippines, veteran seafarer Chang Chang-lung (張昌隆) said he was not at all surprised.
"The trouble is due to the problem of overlapping maritime jurisdictions. If the issue is not resolved, tragedies such as this will occur again," said Chang, a seasoned sea captain from Pingtung's Hengchun Peninsula, who has had three perilous encounters with Philippine marine authorities.
The 58-year-old Chang has been a fisherman since his youth.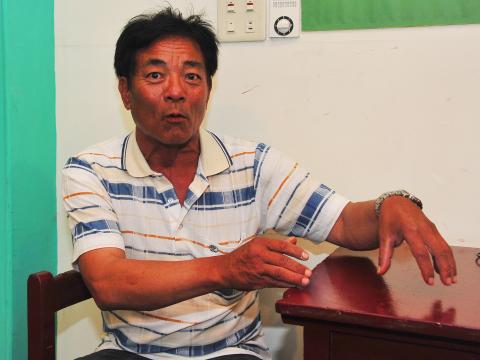 Veteran seafarer Chang Chang-lung motions during an interview in Pingtung County on Monday. Chang said if the government fails to solve the diplomatic row between Taiwan and the Philippines in a resolute manner, similar cases will happen again in the future.
Photo: Tsai Tsung-hsian, Taipei Times
He recalled his first encounter with a Philippine vessel in 1991, when his ship sailed to about 20 degrees north latitude, a marine area Pingtung sailors call Toudiapsuan (陶疊山) in Hoklo (commonly known as Taiwanese).
Chang said a Philippine naval vessel started approaching his ship at high speed, and he turned his ship around to get away.
"However, our boat was too slow. The Philippine vessel then started shooting at us with machine guns. All of us hid inside the boat's cabin," Chang said. "When we got back home, we counted more than 30 bullet holes in the boat."
After that, Chang said he spent more than NT$3 million (US$100,370) to purchase a new fishing boat with a bigger engine.
"However, in 1997, in the same stretch of water, we were chased by Philippine naval ships and pursued by a military helicopter. Luckily we managed to escape without much damage [to the boat]," the captain said.
A third encounter came in 2001, which he described as a terrible nightmare for him and his crew.
Chang said they had just started to fish early in the morning and did not notice armed men approaching their boat in sampans. The men came aboard to search the boat.
"They had guns, so we could not put up a fight," Chang said.
"They had a dynamite stick with them and planted it in our cabin as false evidence. We were accused of fishing illegally using dynamite, even though we have not caught anything yet," Chang said.
His ship and crew were detained and taken to the port of Aparri, at the northern tip of Luzon Island.
Chang said they were put under house arrest for six months and the Philippine authorities demanded US$100,000 for their release.
They were only released to board a flight "to escape back to Taiwan" after paying NT$600,000 (US$19,960) in bribes to Philippine officials, through the assistance of well-connected Chinese Filipinos, Chang said.
"Along with my confiscated ship and the money spent on bribes during our six months in detention, this 'accidental journey' cost me about NT$5 million," he added.
After hearing of his experience, the fishermen of Hengchun Peninsula were scared and nobody dared go into that stretch of water again, he said.
"Since then, only fishermen from Donggang [東港, another Pingtung port to the northwest of Hengchun] would go there, but they are gambling with their lives," Chang said.
"The Philippine navy always gives us trouble. They have about 17 islands in that stretch of marine territory and they have five different naval units stationed around there," he said.
"Even with a signed agreement on fishing around one of the islands, Philippine naval units from the other islands would still give us trouble. Filipino fishermen would report Taiwanese fishing boats' position to their naval units. It was impossible to safeguard ourselves over there," Chang added.
He also denounced the behavior of Filipino seamen, which he described as "atrocious."
"When these navy sailors and officers came aboard our boat, they would loot almost everything we had, from raincoats and videotapes to food, tissues and other materials," Chang said.
"If we were lucky, we were allowed to leave and go home, otherwise they would plant evidence against us and confiscate our boat. They would strip the boat's engine and all the usable instruments. Then they would demand that we pay a heavy fine," he added.
Chang recalled elderly fishermen advising them to keep about NT$500,000 in cash on board, so if their boat was detained by Philippine seamen, giving them the cash usually could ensure the crew's safety and the boat's release.
"However, the overlapping economic exclusion zones of Taiwan and the Philippines are troublesome. If our own government does not take strong action to resolve the matter, Taiwanese fishermen may have to give up this large fishing area. Or else, the Kuang Ta Hsing No. 28 incident will not be the last," Chang said.
Comments will be moderated. Keep comments relevant to the article. Remarks containing abusive and obscene language, personal attacks of any kind or promotion will be removed and the user banned. Final decision will be at the discretion of the Taipei Times.