Death on the High Seas: Dead fisherman's family slam Philippine officials
RISKY BUSINESS: An experienced fisherman said that Philippine ships have long menaced Taiwan's fishing boats and Vietnamese vessels confiscate their catches
Family members of the Taiwanese fisherman who was shot dead during a confrontation with a Philippine government vessel lambasted the Philippine Bureau of Fisheries and Aquatic Resources (BFAR) for what they said was its attempt to avoid taking responsibility for the incident.
Hung Shih-cheng (洪石成), 65, was on the Kuang Ta Hsing No. 28 — which was operating about 164 nautical miles (304km) off the southern coast of Taiwan — when he was killed by Philippine Coast Guard (PCG) personnel on the vessel on Thursday morning.
On Friday, Phillippine Presidential Office deputy spokesperson Abigail Valte was quoted by media as saying in response to the incident that "it was an aggressive act. The [Taiwanese fishing boat] rammed into our vessel, which was certainly an aggressive act, so the PCG responded accordingly."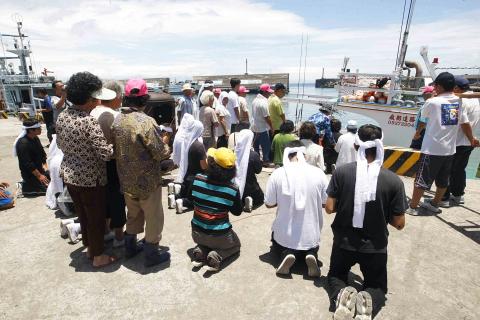 Siaoliouciou residents and family members of the man killed on a Taiwanese fishing boat on Thusday gather and mourn at the harbor as the boat, Kuang Ta Hsing No. 28, returns to port.
Photo: CNA
Hung's daughter Hung Tzu-chien (洪慈綪) accused the Philippine government of lying.
"No fishermen in their right mind would intentionally crash into an armed Philippine ship because they are afraid of having their ship impounded," Hung Tzu-chien said.
"Anyone with an ounce of common sense would know that the Philippine government is making excuses to try to get them off the hook," she added.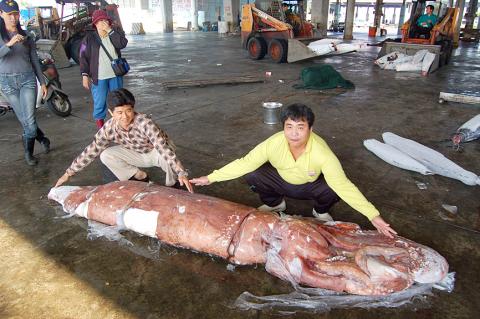 Hung Chieh-shang, the son-in-law of Hung Shih-cheng, displays a giant squid that he caught in December 2006. The body measured 3m and the whole squid, tentacles included, measured 7m.
Photo: Lee Lee-fa, Taipei Times
Hung Yu-chih (洪育智), captain of the ship and Hung shih-cheng's son, denied the incident was triggered by an attempt to ram the Philippine vessel.
Hung Yu-chih said it was not possible for his boat to ram the much bigger Philippine ship and that the crew had not taken any aggressive action, contrary to what the Phillippine Presidential Office official claimed.
After the shooting began, the unarmed fishing boat attempted to flee as fast as possible, he said, stressing that it was the other vessel that opened fire.
According to Hung Yu-chih, the Philippine vessel simply showed up to board the fishing boat for inspection, adding that the Philippine vessel had started shooting from less than 30m away.
"My father told everyone to go below deck and we were all scared when we heard the sound of continuous gunfire," Hung Yu-chih said.
"We thought they were just shooting as a warning and immediately turned northeast," Hung Yu-chih said, adding that he did not expect the Philippine ship to give chase for an hour, ultimately causing his father's death.
"The bullets rained down on us," he said, adding that "during the entire hour that we were trying to escape, they just kept shooting at us."
According to Pingtung County's Haili Borough (海里) Warden Hsu Wen-piao (許文標), who is an experienced ocean fisherman, armed Philippine ships have long menaced Taiwanese fishermen.
"They have never apologized nor offered compensation," Hsu said, adding that the Philippine government has crossed a line.
Hsu added that armed ships from Vietnam frequently harassed fishing boats from Pingtung's Donggang Township (東港) and often took their catch at gunpoint, adding that the fishermen could do nothing about it.
"Like this current incident with Philippine armed ships, fishermen have always hoped to see ships from Taiwan's navy sail to the rescue, but they have always been disappointed," Hsu said.
"If the government does not toughen up and crack down on the Philippines, Taiwanese fishermen will surely turn their backs on such a government," Hsu said, adding that authorities must set an example.
Liouciou Fishermen's Association chief executive Tsai Pao-hsing (蔡寶興) said the explanation given by the Philippine government was flimsy at best.
The Kuang Ta Hsing No. 28 displaces only 15 tonnes, much too small to threaten an armed Philippine coast guard ship, Tsai said.
The Fisheries Agency said it has looked at data on the Kuang Ta Hsing No. 28's movements and said it potentially shows that the Philippine government may be lying.
The Coast Guard Administration said Manila should provide video footage to back up claims that the Kuang Ta Hsing No. 28 initiated the conflict.
The Coast Guard Administration added it originally intended to use data from Kuang Ta Hsing No. 28's voyage data recorder (VDR) — the equivalent of an aircraft's black box — for investigation, but said that because the ship did not have a VDR system or a vessel monitoring system (VMS), the situation may deteriorate into a "he said, she said" scenario.
Coast Guard Administration officials added that even if a fishing vessel attempted to ram a ship in a foreign nation's territorial waters, maritime authorities would only be justified in trying to forcibly board the ship for an inspection.
That the Philippine government was seeking to justify shooting at unarmed civilians was beyond belief, officials said.
According to the officials, the Taiwanese fishing boat only had a cargo of mahi mahi and albacore totaling 380kg.
Hung Shih-cheng was a seasoned fisherman who enjoyed some fame in Siaoliouciou (小琉球) for catching a 7m squid with his son-in-law while working on another ship in December 2006.
Additional reporting by Chiu Chun-fu, Wu Po-hsuan and CNA
Comments will be moderated. Keep comments relevant to the article. Remarks containing abusive and obscene language, personal attacks of any kind or promotion will be removed and the user banned. Final decision will be at the discretion of the Taipei Times.