Woman aged 63 gives birth to twins
A couple in their 60s from Taipei last year had their first children, a twin boy and girl.
Chao Hsiang-chen (趙祥珍), 63, works on the customer service desk of the Taipei City Government Water Department.
For a long time, Chao and her husband, 64, did not plan on having children.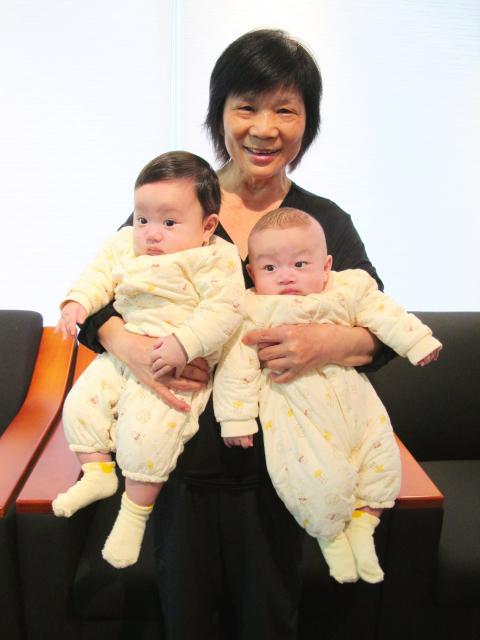 63-year-old mother Chao Hsiang-chen sits holding her twin son and daughter in Taipei on Sunday.
Photo: Chen Wei-tzu, Taipei Times
"My husband did not want children. He said raising kids would be an extra burden," Chao said.
Two years ago, the couple went on holiday to China. Their relatives and friends persuaded them to try to have a baby because the couple is still in good health. So after returning to Taiwan, the couple decided to try for a child.
"We just decided to let nature take its course, if it happens, it happens," Chao said.
At the age of 62 last year, Chao became pregnant and gave birth to healthy twins.
"They are the most precious gift the gods have given to me," she said.
Chao now regrets not getting pregnant earlier and is encouraging women to start having children at a younger age.
"When doctors told me I was pregnant I could not believe the news," she said.
"During my pregnancy, I did not feel any discomfort. Maybe it's because I accompanied my mother on hikes in the mountains every day when I was young," she said.
"Two days after giving birth, I got out of bed and did some exercise. Soon I was back home and out shopping for groceries at the local market," she added.
She said her babies, Chen Feng (陳鳳), the girl, and Chen Lung (陳龍), the boy, do not cry often and only make sounds to indicate they are hungry and want to be fed.
Comments will be moderated. Keep comments relevant to the article. Remarks containing abusive and obscene language, personal attacks of any kind or promotion will be removed and the user banned. Final decision will be at the discretion of the Taipei Times.