Young Taiwanese taking increasing interest in Deng's life: foundation
An increasing number of young Taiwanese are taking an interest in the life and tragic end of Deng Nan-jung (鄭南榕), the executive director of the foundation named after the late democracy activist said yesterday on the 24th anniversary of Deng's death by self-immolation.
The mood at the Deng Liberty Foundation, located on the recently renamed Freedom Lane in Taipei, was one of introspection as groups of people yesterday came to pay their respects to the former editor-in-chief of Freedom Era Weekly (自由時代週刊). Facing charges of sedition for his calls on the government to protect freedom of expression, Deng set himself ablaze in his office on April 7, 1989.
Ten years later, the same office, which by then had been turned into a human rights memorial hall, was opened to the public, showcasing a collection of photographs of Deng and other activists who fought for freedom in Taiwan under martial law. Hauntingly, Deng's office remains as it was found after he committed the ultimate sacrifice, a reminder of a not-so-distant past.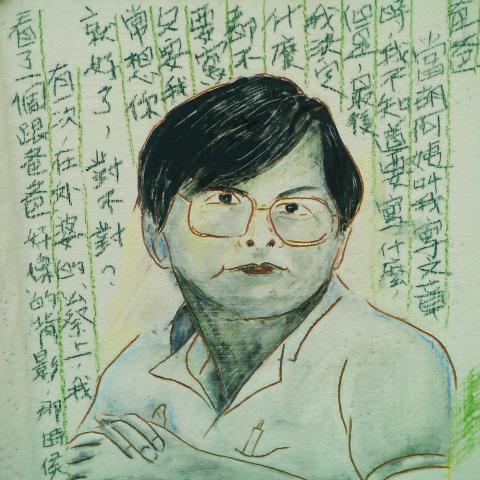 A drawing of activist Deng Nan-jung is pictured at the Deng Liberty Foundation in Taipei yesterday.
Photo: J. Michael Cole, Taipei Times
Visitors yesterday honored the man by depositing red roses outside the charred room. A single white scarf, left behind by a Tibetan organization, graced the entrance to Deng's study.
Addressing a group of several dozen visitors, foundation chief executive Tsao Chin-jung (曹欽榮) said he had observed in recent years a marked change in the interest among young people to learn more about Deng's life and sacrifice.
He said the foundation was receiving more requests from students to visit it, to deepen their understanding of the man, whose Mainlander background had not diminished his commitment to Taiwan, as former president Chen Shui-bian (陳水扁), like Deng a former political prisoner, once said of him.
Thanks to the Internet and social media, interest in Deng's life seems to be seeing a revival, Tsao said, adding that most young visitors today already had a fair understanding of Deng's life and works.
Just as this correspondent was entering the memorial hall, he ran into Lin Fei-fan (林飛帆), a student leader who played a major role leading the anti-media monopoly movement against the attempted — now failed — acquisition of Next Media by a consortium that included Want Want China Times Group chairman Tsai Eng-meng (蔡衍明), whose close ties with the regime in Beijing have made him a controversial figure in the nation's media environment.
Earlier in the day, Lin and several young activists had joined others during a ceremony at the Jinbaoshan Cemetery in New Taipei City (新北市) to honor Deng.
Young people have also sought other means to remember Deng. National Cheng Kung University's 02 Group, whose members have pledged to continue to pursue the values that Deng sacrificed his life for, was scheduled to hold a candlelit vigil last night in memory of Deng.
Young Taiwanese were not the only ones who showed up to honor Deng. Following Tsao's presentation at the foundation, a young Chinese student, who is studying at National Taiwan University, also made a brief speech.
Carrying a satchel he had just purchased from the foundation, the student said there were reasons to worry about Taiwan's future, and he pointed to corruption within the Chinese Nationalist Party (KMT) as the main problem.
Comments will be moderated. Keep comments relevant to the article. Remarks containing abusive and obscene language, personal attacks of any kind or promotion will be removed and the user banned. Final decision will be at the discretion of the Taipei Times.