Yunlin festival celebrates milkweed butterfly migration
Yunlin County's Linnei Township (林內) is currently holding a festival to celebrate the migration of Taiwanese milkweed butterflies.
The nation's four species of milkweed butterflies (Euploea) migrate northward from southern Taiwan during March or April every year and are usually blackish brown in color with metallic purple scales and white spots on their wings.
The insects spend the winter in the valleys of southern Taiwan, mostly in Greater Kaohsiung's Maolin District (茂林) and Taitung County's Dawu Township (大武).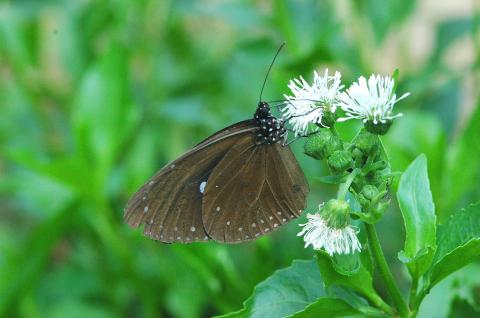 A milkweed butterfly feeds on March 13.
Photo: Chan Shih-hung, Taipei Times
During migration the butterflies pass through Linnei township in early April, the office said, adding that the butterflies have arrived earlier this year due to a relatively warm winter.
Volunteers counted more than 200 butterflies per minute flying through the town during peak times, the office said.
Researchers have found that a section of the Formosa Freeway (National Freeway No. 3), between kilometer markers 251 and 253, is a hotspot where milkweed butterflies pass through in large numbers during migrating season, so the National Freeway Bureau has set up a protection net to prevent them from being run over. It has since 2007 even closed the freeway's northbound outside lanes during peak days of the migration.
Following an opening ceremony yesterday, Yunlin County Commissioner Su Chih-fen (蘇治芬) and township Mayor Chiou Shih-wen (邱世文) invited visitors to shout out: "I love butterflies and I am against nuclear power," as an oath to protect the butterflies' natural environment from the risks of radioactive contamination.
A street parade was held to celebrate the festival, which included dozens of girls in ballet dresses with sparkling fake antennas and wings, and boys in scout uniforms and butterfly-shaped paper decorations on their caps.
A series of events, including customized stamp making, butterfly and ecology observance trips, performances for children, 3D art displays, are to take place today and next weekend at the township.
Comments will be moderated. Keep comments relevant to the article. Remarks containing abusive and obscene language, personal attacks of any kind or promotion will be removed and the user banned. Final decision will be at the discretion of the Taipei Times.