Police, protesters clash at Huaguang
EMPTY PROMISES: Residents of Taipei's Huaguang Community have staged a number of protests, but no resettlement plan has ever been drawn up for them
Calling for a stop to demolitions and demanding a resettlement plan, more than 100 residents of Taipei's Huaguang Community (華光) and their supporters clashed with police as a demolition squad moved in yesterday to tear down two houses as part of a development project.
"No to forced eviction. We want resettlement," protesters shouted as about 300 police officers escorting the demolition squad moved into the community at around 10:20am.
They had set up a 3m tall tower in front of the houses scheduled for demolition, while more than 100 people lay in front of the houses. Inside the houses, students chained themselves to walls and doors.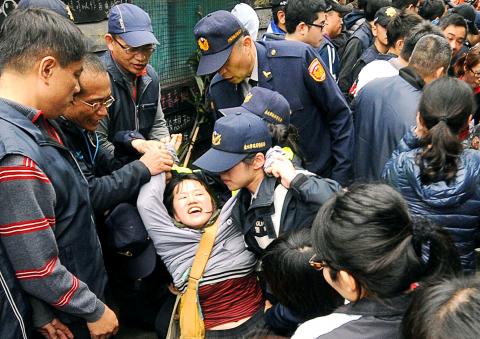 Student protesters supporting Huaguang Community residents are removed by police yesterday after the Ministry of Justice demanded that houses in the Taipei community be demolished.
Photo: Wang Min-wei, Taipei Times
The situation quickly became heated when the police started to take protesters away.
"How could you do this to these people? Do you have a heart?" a female protester yelled.
It took police more than two hours to clear the street in front of the houses.
Soon after the police broke into the houses, arresting more students.
"You should have female police officers to do the job," protester Lin Fei-fan (林飛帆) yelled at male officers grabbing female protesters inside one of the houses.
"We don't have such a good service," an officer said, to which Lin responded: "Asshole."
Enraged, the officer slapped Lin in the face and yelled: "What did you say? I dare you to say it again!"
"I don't know what I did wrong to be treated like this," Lee Kui-chu (李桂朱), a Huaguang resident, said in tears after being forced from her house. "I feel very sad and sorry to see so many students supporting us being hurt by the police."
"Life is already hard for us, now that our house is flattened we will just have to find another place to live, while the bank accounts of the entire family have been frozen due to the lawsuit over 'illegal occupation' of government property," another resident Lin Su-hua (林蘇華) said.
Heavy machines moved in to accelerate the demolition after all the protesters — many of whom went on to launch another protest in front of the Executive Yuan — were removed by about 2:30pm.
The Huaguang community, located near Chiang Kai-shek Memorial Hall in the heart of Taipei, is mostly inhabited by former soldiers — and their descendants — who withdrew to Taiwan with the Chinese Nationalist Party (KMT) after the Chinese Civil War.
Although the land was officially government property, the soldiers were unofficially allowed to live on it as the government at the time was unable to address housing shortages. Their homes were subsequently given official house numbers, electricity and water were provided, and taxes were collected from them.
However, when the government decided to use the site for a commercial development more than a decade ago, residents were asked to leave, and then sued for "illegal occupation" of government property.
Residents have staged a series of protests, but despite President Ma Ying-jeou's (馬英九) promises, no resettlement plan has ever been drawn up.
Comments will be moderated. Keep comments relevant to the article. Remarks containing abusive and obscene language, personal attacks of any kind or promotion will be removed and the user banned. Final decision will be at the discretion of the Taipei Times.