Activists demand Jiang meet them on nuclear waste
WASTED PROMISES: Civic groups and representatives from northern Taiwan said Premier Jiang Yi-huah had failed to fulfill a vow to talk to them about nuclear waste
Representatives from Orchid Island (Lanyu, 蘭嶼), Taitung County, Pingtung County and northwestern Taiwan joined environmental groups yesterday in a protest in front of the Executive Yuan to demand that officials fulfil their promise to meet with those affected by the nuclear waste stored in these areas.
The groups said that one day before the March 9 anti-nuclear demonstrations were held across the nation, Premier Jiang Yi-huah (江宜樺) had told lawmakers at the Legislative Yuan that he would immediately arrange meetings with anti-nuclear groups which wanted to discuss nuclear issues with him or President Ma Ying-jeou (馬英九).
Since no meetings have been arranged since then, the groups said they were protesting to make their desire to meet with the president and premier known.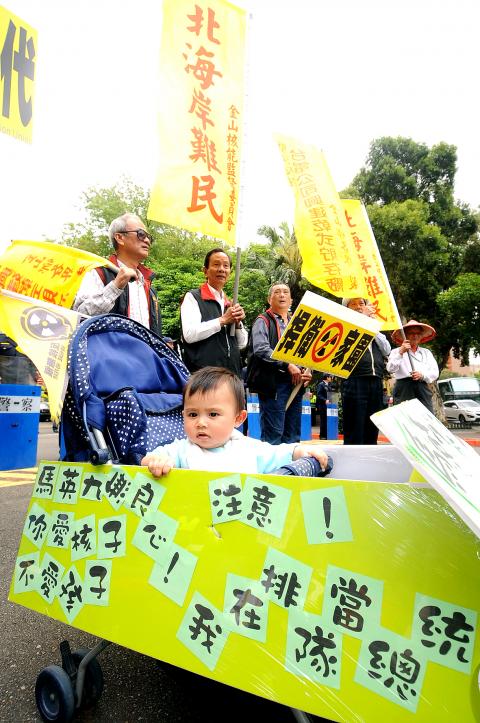 A baby sits behind a protest sign as environmental activists and residents of areas affected by nuclear waste protest yesterday in front of the Executive Yuan in Taipei.
Photo: Wang Min-wei, Taipei Times
Tao Foundation (蘭嶼部落文化基金會) secretary-general Sinan Mavivo said that Taiwan Power Co (Taipower) should not make excuses such as being unable to pick a final disposal site for low-level radioactive waste to delay making good its promise to remove nuclear waste from Orchid Island.
The groups said there are too many spent nuclear fuel rods stored in northern parts of the country.
Northern Coast Anti-Nuclear Action Alliance chief executive Kuo Ching-lin (郭慶霖) said it has already asked relevant government agencies to unveil the final disposal plan and the schedule for its implementation, and if the government do not respond to their demands, the alliance will consider filing a lawsuit.
Taitung Anti-Nuclear Alliance convener Yang Tsung-wei (楊宗瑋) said that because Taitung's electricity usage accounts for only a small proportion of the nation's total usage, it is unfair that the area is being considered as the final disposal site for nuclear waste and that Tajen Township (達仁) is being considered as the final repository site.
"Fight against nuclear waste, enforce a full-scale review on nuclear waste policies," the representatives called out together, as they presented their proposal to meet with the premier to discuss nuclear waste issues to an official.
The groups urged the Executive Yuan to give them an answer on a time for a meeting within three days. The official who accepted their proposal replied that she would present their letter to more senior-ranking officials.
Comments will be moderated. Keep comments relevant to the article. Remarks containing abusive and obscene language, personal attacks of any kind or promotion will be removed and the user banned. Final decision will be at the discretion of the Taipei Times.