Tainan residents protest land grab, claim Lai lied
Greater Tainan residents affected by a project to move a railway underground yesterday protested a government decision to expropriate their land and houses for the project, accusing Greater Tainan Mayor William Lai (賴清德) of lying when he said that they had changed their minds after talks with the city government.
"I'm an architect, I built my house more than 50 years ago and have lived here most of my life, and now the government wants to tear it down and take my land, despite my objection," 85-year-old resident Chen Ko (陳割) told a press conference in Taipei. "Mayor Lai claims to be open-minded and willing to listen to the people, but he never came to talk with us before making the decision, and he leaves us with no choice."
Chen's wife, Tsai Hsin-mei (蔡信美), agreed.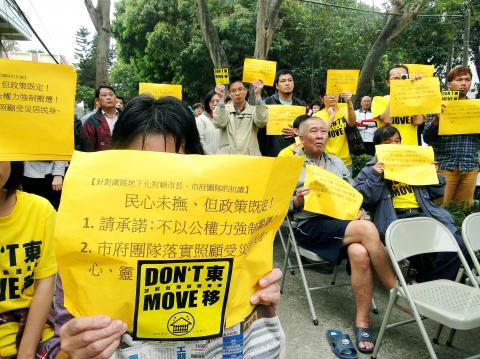 Greater Tainan residents yesterday hold up posters protesting local government's plans to move a railway underground.
Photo: Hung Jui-chin, Taipei Times
Tsai said most of the more than 400 households who face forced expropriation support the project to move the railroad underground and are willing to sacrifice their own interests for the public good, but they oppose the Greater Tainan Government's decision on Monday to permanently expropriate their properties.
"We are willing to make some sacrifices, to have our houses demolished to make way for temporary tracks as the construction is in progress, as long as the city government removes the tracks and returns the land to us after it has been completed," Tsai said. "Lai lied when he told the [Greater Tainan] City Council on Monday that he has negotiated with us and that we changed our minds and now support the Executive Yuan's version of the project."
According to the Executive Yuan's design, houses on the east side of the current tracks would be demolished to make way for new underground tracks. When the project is completed, the original surface tracks are to be removed to make way for a park and a commercial district.
Wang Wei-min (王偉民), a senior civil engineer, made a presentation at the press conference of an alternative plan that he and his team have proposed that would only "borrow" land from residents during the construction phase.
"What I have done is prove that another option is feasible from a professional's point of view. I made the same presentation to [Greater Tainan] officials, but they simply ignored it," Wang said.
Chang Hui-chin (張惠津), another resident affected by the proposal, was worried about what would happen to her after her house has been flattened.
"I am old, I don't know how to drive it's convenient for me to live in the center of the city, because I can go to the bank, the post office or the market on foot," Chang said. "The [Greater Tainan] government said that they will build new apartments for us outside the city and sell them to us at a discounted price — but will I be able to go to the bank, the post office or the market if the new apartments are in the middle of nowhere?"
Resident Wang Chin-luan (王金鑾) said her family has worked hard for decades to pay off the mortgage on the house where they are currently living.
"Now the [Greater Tainan] government wants us to buy a new apartment, which means I would have the burden of debts on new loans," Wang said.
Comments will be moderated. Keep comments relevant to the article. Remarks containing abusive and obscene language, personal attacks of any kind or promotion will be removed and the user banned. Final decision will be at the discretion of the Taipei Times.