Former officer gets 12 life terms in China spy case
MODUS OPERANDI: China continues to seek access to classified military information through recruiting retired officers who remain in close contact with active forces
The High Court on Tuesday gave retired air force Lieutenant Colonel Yuan Hsiao-feng (袁曉風) 12 life sentences for passing classified military information to China over a period of six years, adding to a list of spy cases to hit the nation in recent years.
A court official said yesterday that Yuan passed unspecified military secrets to China between 2001 and 2007 through Chen Wen-jen (陳文仁), a former colleague in the air force.
Using flash drives, Yuan and Chen are alleged to have provided classified information to China on 12 separate occasions. Yuan, who was deployed at an air force ground control unit, was found guilty on 12 counts of leaking secrets, each of which carries a mandatory life term, the court official said.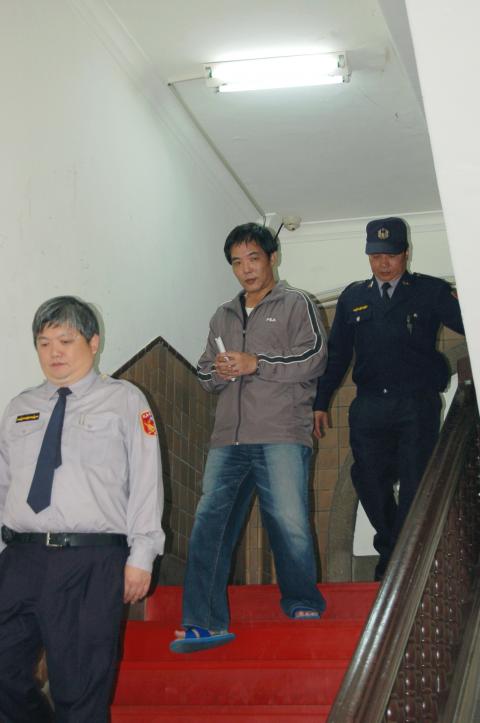 Retired lieutenant colonel Yuan Shiao-feng, center, leaves the Taipei High Court on Tuesday after the court gave him several life sentences for leaking information to China in an espionage case.
Photo: Yang Kuo-wen, Taipei Times
Yuan, who retired in 2007, was reportedly paid a total of NT$7.8 million (US$269,000) by China for his efforts, though the High Court would not confirm the figure.
Chen received a lighter sentence of 20 years imprisonment, as he had already retired from the military at the time the crimes were committed.
Chen, who retired as a lieutenant in 1992, was operating a business in China and had a Chinese spouse. He was recruited by the Second Department of the People's Liberation Army General Staff Headquarters, which is in charge of collecting military information. He is then believed to have recruited Yuan after returning to Taiwan and discovering that the latter was still in the air force.
The retired lieutenant is also believed to have collected intelligence on Taiwan's combat aircraft with assistance from another officer.
Sources said that after retiring Yuan continued to seek access to intelligence through former colleagues.
The pair was detained last year after two junior colleagues they had tried to recruit in August 2011 reported the matter to the armed forces' internal security, prompting a counter-intelligence probe.
The verdict can be appealed.
The case is one of many instances in which Chinese agents have recruited retired military officers of a certain rank who then rely on their connections with active officers in the armed forces to collect classified information.
The principal targets of Chinese intelligence collection in Taiwan are believed to be the "Po Sheng" C4ISR modernization effort, the Anyu-4 air defense system and the surveillance radar program, which revolves around the long-range early-warning radar on Leshan (樂山), Hsinchu County, which was launched on Friday.
In February last year, an information control officer assigned to an air defense base in northern Taipei, surnamed Chiang (蔣), was arrested in connection with another espionage case. Chiang's uncle, who operated a business in China, was believed to have served as a conduit.
Earlier this week, the Ministry of National Defense confirmed that a rear admiral had come under investigation as part of an espionage case involving the possible leak of navy secrets. According to reports, Admiral Hsu Chung-hua (徐中華), commander of the 146th Attack Squadron based in Magong, Penghu, had been transferred from his position in connection with the case, which emerged last year after Lieutenant Colonel Chang Chih-hsin (張祉鑫), formerly a commander in charge of political warfare at the navy's Naval Meteorology Oceanography Office, was arrested in a raid.
The 146th includes Chengkung-class frigates armed with the Hsiung Feng III supersonic anti-ship missile, among others. Analysts believe Chang's actions may have compromised the operation of Taiwan's submarines.
Also this week, the ministry announced that Army Major General Wu Chin-chun (吳金駿), reportedly a trusted aide to Minister of National Defense Kao Hua-chu (高華柱), had been temporarily reassigned as investigators look into a possible connection between a relative of Wu and the Chang case, which has been described as possibly one of the most damaging espionage cases in recent years.
In January 2011, the Supreme Military Court sentenced army general Lo Hsien-che (羅賢哲) to life in prison for passing classified information to China since 2004 after being recruited in Thailand.
Additional reporting by Stacy Hsu and AFP
Comments will be moderated. Keep comments relevant to the article. Remarks containing abusive and obscene language, personal attacks of any kind or promotion will be removed and the user banned. Final decision will be at the discretion of the Taipei Times.