Ministry of Justice lifts the veil on executions
Information gathered from Ministry of Justice and judiciary officials has allowed the public a look into the final moments leading up to the execution of six death-row inmates on Friday evening.
According to the ministry's information, executions start with death-row convicts being informed of their execution and then taken to the execution field, where their identities are reconfirmed and they are asked for any last words.
A final meal with Kaoliang liquor (高粱酒) is also provided, courtesy of the prison authorities.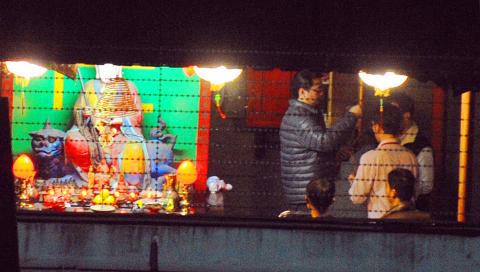 Staff at Taipei Detention Center pray to the God of the Underworld (also known as the Bodhisattva Dizang) after the execution there of Tseng Si-ru and Hung Ming-tsung on Friday evening.
Photo: Wang Yi-sung, Taipei Times
Following the meal, forensic pathologists inject the convicts with anesthetics for a painless death and then marshals take their cues from the pathologists and fire a fatal shot into the convict's heart, or the base of their skull, should the convict wish to donate their organs, the ministry said.
The convict's death is then certified by the forensic pathologist, it added.
On Friday's executions, Tseng Si-ru (曾思儒) and Hung Ming-tsung (洪明聰) were executed in Taipei Prison; Chen Chin-huo (陳金火) and Kwang Teh-chiang (廣德強) in Greater Taichung Prison; Huang Hsien-cheng (黃賢正) in Greater Tainan Prison; and Tai Te-ying (戴德穎) in Greater Kaohsiung Prison.
Chen and Kwang were sentenced to death for killing a female insurance agent and chopping up and eating parts of her body in 2004 in then-Taichung County.
Tseng, a former Taipei County senior-high school teacher, was convicted of killing a female colleague after she caught him burgling her home in 2002.
Hung set fire to the home of his in-laws, killing his brother-in-law and his brother-in-law's three children in 2003 in then-Taipei County.
Tai killed his girlfriend's father by stabbing him 26 times and severely wounded his girlfriend's mother in 2006 in Kaohsiung.
Huang, who served a prison term for killing his ex-wife, murdered two men five days after he was released on parole in 2005.
The ministry said that while Chen, Tai and Tseng had signed documents to donate their organs, Tai was a hepatitis B carrier and Tseng retracted his promise at the last minute. Only Chen's organs were donated.
According to the Taiwan High Prosecutor's Office, Tseng on Friday evening gave a six-minute speech when asked for his last words, admitting that although he had committed a heinous crime, "the sentence given to me was too heavy. I feel that I [may] still be of some value [to society]."
Hung, on the other hand, had nothing to say.
Both Hung and Tseng ate the last meals, had a drink and smoked a cigarette prior to the execution.
Tseng was killed with one shot at about 6:52pm, but Hung had to be shot three times and took over 10 minutes to die. The first shot had been fired at 7pm, but after 5 minutes the marshals discovered that Hung was still breathing and fired a second shot, then the third shot five minutes later.
Both the prosecutor and the forensic pathologist concluded that the reason it took three bullets to kill Hung was because the anesthetic had not worked quickly enough because he was a large man.
Chen and Kwang were taken out of their cells at about 5pm and asked for last words or unfinished business. Both Chen Chin-huo and Kwang said no.
Kwang ate some of the food provided by the prison, drank about 150cc of Kaoliang, and asked for a cigarette.
Kwang was injected with anesthetic after he had finished his cigarette and his execution was concluded at 6:30pm without incident.
Chen did not touch any of the food or liquor provided and had asked to be injected immediately. Chen was shot at the base of his skull because he wished to donate his organs and his execution was concluded at 7:40pm without incident. Chen's remains were placed on an ambulance and taken to a hospital.
According to the Greater Taichung Prison, both Chen and Kwang had been calm over the five years that they had been on the death row. Their deaths were presided over by monks hired by the prison.
Huang was executed at 6:30pm. When asked for his last words he said he had done great wrongs, regretted his actions, was sorry that he had not lived up to his father's expectations and asked his mother not to be sad about his execution.
Huang did eat any of the food prepared by the prison authorities, but took a few sips of water and smoked a cigarette.
When the marshal was about to fire, the gun jammed three times. The marshal fired twice into Huang's heart after clearing the chambers, concluding the execution.
Tai said he had nothing holding him back as his mother suffered from dementia and that he was being freed.
Tai was notified at 6:30pm that his execution was being carried out, and reacted calmly to the notification. Tai walked out to the execution field by himself, thanking the guards accompanying him for taking care of him these last few years.
After drinking a cup of Kaoliang and having a cigarette, Tai was injected with anesthetic at 6:50pm and taken to the field. The marshals had to fire three times before the forensic pathologist confirmed that Tai was dead.
Tai's body was transported to the Greater Kaohsiung City Mortuary at 7:18pm, and over his body was handed over to his relatives and family for burial.
Additional reporting by Su Fu-nan, Pao Chien-hsin, Wang Jun-hsiang, Wu Chun-feng, Yang Cheng-chun, Hou Po-ching and Wang Ting-chuan
Comments will be moderated. Keep comments relevant to the article. Remarks containing abusive and obscene language, personal attacks of any kind or promotion will be removed and the user banned. Final decision will be at the discretion of the Taipei Times.