TV host resigns as rumors swirl
CHINESE INFLUENCE: Analysts have linked Grace Liao's departure to pressure from the Chinese government on the TV station to refrain from discussing 'taboo' topics
Grace Liao (廖筱君), host of SET-TV's New Taiwan Go Go Go (新台灣加油), the successor to popular political TV talk show Talking Show (大話新聞), famous for its criticism of the government and China, confirmed her resignation on Friday, allegedly due to increasing pressure by the Chinese government on the show's editorial autonomy.
"I don't feel at all sleepy even though I have been awake the entire night. Making this decision was not an easy task, but after doing so, there is a sense of relief … We will meet another day and until then, we will fight for this land called Taiwan," Liao said in a Facebook post at about 4am on Friday.
SET-TV spokesperson Chang Cheng-fen (張正芬) also confirmed Liao's resignation, saying Liao was assigned to her current post at a critical moment after Talking Show host Cheng Hung-yi (鄭弘儀) left the program in May. Liao tendered her resignation for family reasons, Chang said.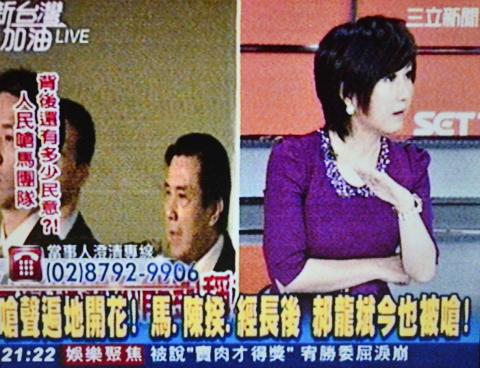 Grace Liao, right, host of SET-TV's political talk show New Taiwan Go Go Go, is pictured in a screen grab from the show on Thursday.
Photo: Chen Yi-chuen, Taipei Times
Allegedly, Liao had originally decided to break the news of her departure during the show's live broadcast on Thursday, but called in sick that afternoon after rumors of her resignation emerged earlier than expected.
Former Democratic Progressive Party (DPP) legislator and political commentator Hsu Kuo-yung (徐國勇) filled in for Liao on Friday's program.
Liao's abrupt resignation has given rise to further speculation about Chinese influence in Taiwan-based television stations, particularly after Cheng also cited "family reasons" for his resignation.
At the time, most analysts linked his departure to China's growing pressure on SET-TV, which has been attempting to break into the Chinese market.
According to a source familiar with the matter, who spoke on condition of anonymity, Liao submitted her resignation after her relationship with the station ran aground over a number of sensitive issues.
The station had reportedly planned to get rid of all the regular guests on Talking Show following its suspension in May. However, Liao insisted on keeping some of them, including veteran journalist Wu Kuo-tung (吳國棟) and Soochow University political science professor Hsu Yung-ming (徐永明), to maintain the show's audience base.
Liao allegedly further displeased the station's management when she persisted in covering issues related to the recent student protests against the acquisition of Next Media's four outlets in Taiwan by a consortium including Tsai Eng-meng (蔡衍明), chairman of Want Want China Times Group — which already owns many major media outlets such as the Chinese-language China Times.
Despite attracting a large audience, the topics were deemed taboo by both China and the Chinese Nationalist Party (KMT), the source said.
Another source said political pressure from China has only increased following Cheng's departure and all subjects covered in New Taiwan Go Go Go must be vetted before being aired.
"The show is barred from touching upon any issues pertaining to China, or airing criticism of the KMT administration," the source said.
Citing as an example, the source said that former DPP legislator Lee Wen-chung (李文忠), who had been on the show several times, was blacklisted by the station's senior management after making a reference on the show to the administration of President Ma Ying-jeou's (馬英九) denial of visits by the Tibetan spiritual leader the Dalai Lama and World Uyghur Congress president Rebiya Kadeer.
"Such suppression of free speech was also seen when Liao was forbidden from discussing human rights issues involving Liu Xia (劉霞), the wife of imprisoned Chinese dissident and Nobel laureate Liu Xiaobo (劉曉波), who recently lamented in tears her confinement under house arrest in a media interview," the source said.
Blasting what he called China's brutal smothering of Taiwanese television programs, an anonymous whistleblower accused the Taiwan Affairs Office (TAO) of China's State Council of monitoring and exerting its influence on a number of political talk shows in Taiwan.
According to the whistleblower, SET-TV has allegedly made some promises to TAO deputy director Sun Yafu (孫亞夫) who engaged in pro-unification rhetoric at a two-day forum on cross-strait relations in Taipei last week when the latter recently visited the TV station.
Comments will be moderated. Keep comments relevant to the article. Remarks containing abusive and obscene language, personal attacks of any kind or promotion will be removed and the user banned. Final decision will be at the discretion of the Taipei Times.