F-16 pilots came close to joining US exercise
RED FLAG: While fears of Beijing's reaction scuttled the plan, insiders believe that Taiwanese pilots will be able to eventually participate in the large-scale military exercise
Taiwanese air force pilots came very close this year to participating for the first time in a highly realistic and high-intensity combat training exercise in the US, but a last-minute decision by Washington prevented them from doing so over fears of Beijing's reaction, a defense magazine reports in its current issue.
According to the Chinese-language Asia-Pacific Defense Magazine, Taiwanese F-16 pilots were invited to participate in the RED FLAG 12-4 combat exercise held in July, but after a "careful assessment" by senior White House officials, the US side canceled the invitation over fears of China's reaction and a potential impact on bilateral ties.
Held at the Nevada Test and Training Range north of Las Vegas, the RED FLAG combat training exercise, which has been held since 1975, involves air forces from the US and its allies.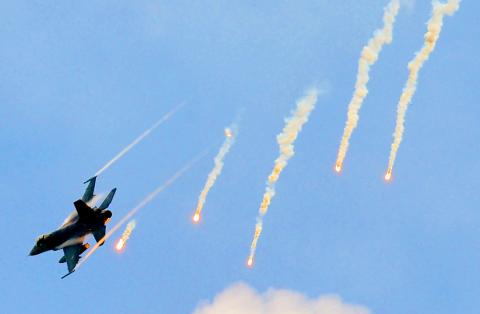 An F-16 jet fires tracers during a live-fire military exercise in Greater Kaohsiung on June 7.
Photo: Chang Chung-yi, Taipei Times
The drills are orchestrated by the US 414th Combat Training Squadron and include as many as 1,900 possible targets, realistic threat systems and an opposing "enemy force" that "cannot be replicated anywhere else in the world," Nellis Air Force Base says on its Web site.
The exercise involves command, control, intelligence and electronic warfare, as well as night missions, and all four branches of the US military take part.
A typical RED FLAG exercise includes fighter, bomber, air superiority, reconnaissance, electronic warfare as well as airlift aircraft.
Over the years, a number of US allies, including South Korea, Singapore, Sweden, the UK, Colombia and Saudi Arabia, have taken part, but Taiwan has yet to join.
Taiwanese officials based in the US have been seeking to increase the level of cooperation between their countries' armed forces and their efforts were reportedly behind the decision to invite Taiwan to participate in this year's exercise.
The air force has long hopes its F-16 pilots, who have been receiving training at Luke Air Force Base in Arizona since the 1990s, when Taiwan purchased 146 F-16A/Bs from the US, could participate in RED FLAG to test their skills, learn joint concepts and gain precious operational experience.
Despite longstanding defense ties between Taiwan and the US, Beijing strongly opposes joint training between the Taiwanese military and the US or its regional allies. Nevertheless, US military officers often participate as observers during military exercises held in Taiwan.
Citing unnamed insiders, the report said that despite the setback, both sides would continue to work together to secure Taiwan's participation, adding that the agencies involved were confident that Taiwanese pilots would eventually be able to take part.
To compensate for the absence of Taiwanese pilots, the first Tien Lung exercise was held in Hualien and Taidong from Nov. 10 through Nov. 16, which mirrored the routines performed during RED FLAG, including a "training acceptance test" carried out by all the major fighter wings.
The test required all participating wings to draw lots to decide their simulated enemies before conducting various air combat drills, including day or night target intercepts, joint air-defense operations, air-to-ground and air-sea skills against possible tactics employed by the People's Liberation Army.
These wings worked in coordination with combat control teams, including ground radar stations and E2K Hawkeye 2000, and air defense units.
In related news, the US Department of Defense announced on Friday that US-based defense contractor Raytheon Corp on Friday had been awarded a US$289,458,942 contract for Taiwan's Surveillance Radar Program (SRP), in a contract that is expected to be completed by Nov. 8, 2017.
Key to Taiwan's SRP is the US$1 billion-plus long-range early-warning radar that is being built at Leshan (樂山) in Hsinchu County and which is expected to become operational before the end of this year.
The program drew criticism by some legislators earlier this year after Raytheon requested an additional NT$4 billion (US$137.6 million) for further research-and-development and other associated costs.
Once it becomes operational, the radar — deemed the most powerful on the face of the planet — will give Taiwan an extra 6-minute warning against incoming Chinese missiles.
Additional reporting by Stacy Hsu
Comments will be moderated. Keep comments relevant to the article. Remarks containing abusive and obscene language, personal attacks of any kind or promotion will be removed and the user banned. Final decision will be at the discretion of the Taipei Times.